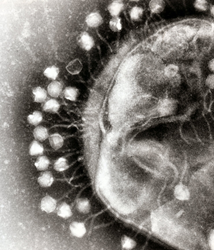 It has been found that these viruses can induce immunogenic cell death...
(PRWEB) June 02, 2017
A newly-published analysis on the impact of virotherapy as part of a combination treatment suggests that it could improve outcomes for mesothelioma patients on immunotherapy. Surviving Mesothelioma has more on the new report. Click here to read the article
Doctors with Macalester College and the University of Minnesota say oncolytic viruses - viruses that have been altered to find and kill cancer cells - have the ability to also stimulate the immune system, just as immunotherapy drugs do in the treatment of people with malignant mesothelioma..
"In pre-clinical models of different thoracic cancers, it has been found that these viruses can induce immunogenic cell death, increase the number of immune mediators brought into the tumor microenvironment and broaden the neoantigen-specific T cell response," write study authors Dr. Alexander Dash and Dr. Manish Patel.
According to their report in a special issue of Biomedicines, oncolytic viruses may help make immunotherapy accessible to more patients with thoracic cancers like mesothelioma.
"While the possibilities for immunotherapy in the treatment of malignant mesothelioma are promising, we know that only a portion of patients respond to these treatments," says Surviving Mesothelioma Managing Editor, Alex Strauss. "The idea that combining these drugs with virotherapy could mean a higher rate of response is very exciting."
To read more about viroimmunotherapy and the new study, see Altered Viruses May Help Boost Immunotherapy for Malignant Mesothelioma, now available on the Surviving Mesothelioma website.
Dash, AS, Patel, MR, "Viroimmunotherapy of Thoracic Cancers", 2017, Biomedicines Special Issue, http://www.mdpi.com/2227-9059/5/1/2
For more than a decade, Surviving Mesothelioma has brought readers the most important and ground-breaking news on the causes, diagnosis and treatment of mesothelioma. All Surviving Mesothelioma news is gathered and reported directly from the peer-reviewed medical literature. Written for patients and their loved ones, Surviving Mesothelioma news helps families make more informed decisions.