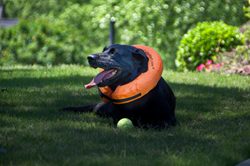 We have to do better. They won't understand why they can't get home.
Atlanta, GA (PRWEB) June 02, 2017
Dino was like many of America's lost/missing pets when he was found emaciated, trusting and without identification.
Introducing The Orange Collar Alert, a visual pet recovery alert system, which alerts the public immediately when pets are by themselves. This is a bright orange inflatable collar, with a service message and instructions on what to do when a pet is found. The registration information can be updated 24/7 including holidays- which saves lives. It can be used Internationally and especially during weather disasters.
According to the National Humane Society, a family pet is lost every 2 seconds. Over 10 million pets are lost each year. Only one in ten family pets is found. According to industry expert Pet FBI, quoting the ASPCA, only 17-30% of dogs and 2-5% of cats ever get reclaimed from shelters. It is not unusual for a cat turned into the shelter to be euthanized the same day.
The Humane Society of The United States announced there are more pets lost on July 4th than any other time of year; animal shelters around the nation report a dramatic increase in pets during the holiday.
When pets go lost/missing, two things are required for a successful, immediate reunion: identification and contact. The faster the identification and owner contact, the faster the reunion. Both the microchip and traditional collar miss the mark; the mark is that small window of opportunity to quickly identify the lost/missing pet.
The OrangeCollarAlert answers the question: how can we save 5,000,000 pets? Public awareness is needed in order for this to happen.
About the company: Located in Georgia, Eli Mattos and his wife Dr. Tan Mattos, crusade at veterinarian clinics and shelters; they educate on the benefits of pet owners protecting their pets safety and what to do should The OrangeCollarAlert pet end up in their facility. The OrangeCollarAlert help pets avoid euthanasia!
Our primary mission, thanks to Dino the Chihuahua-mix, is to prevent 5,000,000 family pets from ever entering the shelters and put collars on 1,000,000 adopted pets. Invite us for educational demonstrations today.