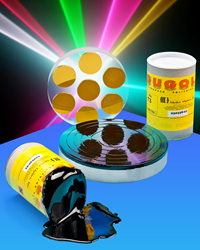 Providence, RI (PRWEB) June 06, 2017
Meller Optics, Inc. has introduced a full line of optical polishing pitch that comes in five hardness grades and can be easily mixed for precisely lapping virtually any optical material.
Gugolz Optical Polishing Pitch from Meller Optics comes in five grades from very-soft to very-hard with melting points from 52°C to 87°C, and is ready to use without screening, filtering, or mixing additives. All five hardness grades are fully compatible, allowing users to simply slice the amount required, melt, and pour to achieve their desired hardness grade.
Made from all-natural wood resin rather than petroleum byproducts, Gugolz Optical Polishing Pitch helps prevent contamination of the polishing media and substrates. Ideally suited for blocking, lapping, and polishing, it can be used for applications with CaF2, germanium, quartz, ZnSe, ZnS, silicon, and other optical materials.
Meller Gugolz Optical Lapping Pitch is priced from $21.00 per 1 kg. container; available in boxes of 12.
About Meller Optics, Inc.
Founded in 1921, Meller Optics has been providing high quality optics to defense, medical, laser, and industrial markets for 90 years now. Specializing in the grinding and polishing of hard, durable materials such as sapphire and ruby, the company has also developed high-speed, low-cost finishing processes for a variety of optical materials such as laser glasses, fused silica, zinc selenide, germanium, silicon, fluorides, and ceramic materials. Configurations include windows, substrates, lenses, domes, and prisms.
Meller Optics is ISO 9001:2008 certified and in addition to providing standard, off-the-shelf products, they custom fabricate components that meet exacting specifications from delicate, difficult to work with optical materials. They also supply quality Microlux Alumina polishing abrasives and Gugolz optical polishing pitch. For more information contact:
Meller Optics, Inc.
Steve Lydon, Marketing
120 Corliss St. / P.O. Box 6001
Providence, RI 02940
(800) 821-0180 FAX (401) 331-0519
e-mail: steve (at) melleroptics.com
http://www.melleroptics.com