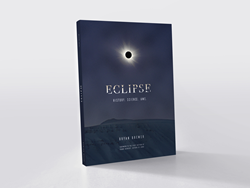 Seattle, Wash. (PRWEB) June 01, 2017
At least 10 million Americans will have the opportunity of a lifetime this coming summer when the moon's shadow sweeps a 70-mile wide swath from Oregon to South Carolina. Viewers in the path will have about two minutes to take in the stunning beauty of the solar corona.
This delicate halo around the sun — visible only during a total solar eclipse — is a truly awesome sight. And it's all set to happen Monday, Aug. 21, 2017.
Leading up to this rare event, eclipse expert and author Bryan Brewer is releasing the third edition of his popular science book, ECLIPSE, now available for purchase at Amazon.com. Brewer is shining light on recent research documenting the benefits of the emotion of awe. And it could help explain why so many people are being drawn to this event.
"The view of the solar corona is literally transcendent and otherworldly, a magnificent sight that takes you out of your ordinary day-to-day consciousness. The sudden onset of darkness in the middle of the day produces an eerie, spine-tingling effect. The grand physical scale of the eclipse imparts a visceral understanding of the vastness of time and space."
The last time the complete shadow of the moon darkened the day in the continental U.S. was in February 1979 in the Pacific Northwest. That's when Brewer published the first edition of ECLIPSE. His generously illustrated full-color book, updated for the upcoming eclipse with dozens of photos, maps, and diagrams, covers everything you need to know about the history, science, and observation of eclipses.
"If you are fortunate enough to be in the path — and have clear skies — you will be rewarded with an unforgettable experience," says Brewer, who has traveled to view five total solar eclipses. "It's worth doing the research and planning to get the most out of this once in a lifetime experience."
ECLIPSE is available for purchase at Amazon.com for $24.95 and is eligible for Amazon Prime free two-day shipping. Further information is available at http://www.EclipseBook.com. To arrange media interviews and appearances, contact the author at bryan(at)EclipseBook(dot)com.