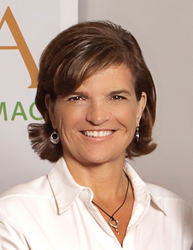 Knowing our work helps our community live a healthier, more fulfilling life brings meaning to everyone on the team.
San Diego, CA (PRWEB) June 05, 2017
NAWBO also honored Hubers in 2015 as the Women Business Owner of the Year and in 2012 as the Trailblazer Award winner.
"We are grateful to be part of a community that recognizes women in business and values personalized medicine. We are fortunate to have the opportunity to serve our patients and talented providers. Knowing our work helps our community live a healthier, more fulfilling life brings meaning to everyone on the team."
The National Alliance of State Pharmacy Associations (NASPA) and Upsher-Smith recognized Chris Givant, RPh, Co-Founder of La Vita Compounding Pharmacy, for her Excellence in Innovation Award given by the California Pharmacy Association (CPhA).
Chris developed a patent-pending methylterahydrofolate (MTHF) injection to help patients mitigate genetic variations that can lead to depression, anxiety, cardiac issues and infertility. Patients today call the compound "a miracle;" its creation was a labor of love, involving an arduous R&D process and clinical feedback resulting in various formula adjustments.
La Vita partners with the nation's leading integrative medical providers in innovating personalized medications to treat their patient's needs. La Vita has led the personalized medicine movement in integrative medicine by formulating several patent-pending vitamin formulations and affiliating with EpigeneticsRx, a network of practitioners focused on impacting their patient's genetic expression.
These collaborations have led to innovative formulations and published studies on the effectiveness of natural based treatment solutions associated with a patient's genetic pre-dispositions. Patient and provider responses to the treatment solutions are evolving the practice of medicine and are unleashing the power of personalized medicine. Read more about these life changing results as referenced in the Journal for Clinical and Medical Genomics.
About La Vita
La Vita Compounding Pharmacy prepares personalized medications for each patient formulated in conjunction with a physician. All formulations are prepared with care, quality and safety, in various dosages using unique delivery systems. We offer a variety of combinations and customized formulations not found anywhere else. PCAB Accredited ® for sterile and non-sterile compounding, La Vita works with you and your physician to get you on the path to living, better, longer. For more information, contact Deb Hubers at Deb(at)lavitarx(dot)com, visit our website http://www.lavitarx.com or http://www.epigeneticsrx.com . Join us on Facebook, Twitter, LinkedIn
About NASPA
NASPA enables state pharmacy association executives to improve their work and service through the sharing of ideas and the pursuit of activities that benefit and strengthen state pharmacy associations and the members they serve https://naspa.us/.
About NAWBO San Diego
NAWBO San Diego is one of 60+ U.S. chapters of NAWBO, a national non-profit organization of more than 5,000 members that represents women business owners across all industries. Since 1975, NAWBO has helped women evolve their businesses by sharing resources and providing a single voice to shape economic and public policy. For more information, visit https://www.nawbo.org/san-diego.