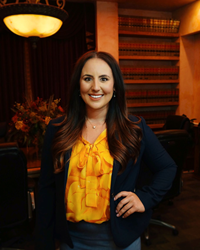 (PRWEB) June 02, 2017
The Law Offices of Michael Cordova is pleased to announce the addition of new attorney Kendall Cavaletto. Kendall's history with our firm began with a clerkship prior to ultimately receiving her Juris Doctorate in 2017. She will serve the firm as an attorney, focusing on cases that include personal injury, wrongful death, medical malpractice, and motor vehicle accidents. She is passionate about helping people and has a strong work ethic and values, along with a strong will to achieve the highest outcome for our clients.
Kendall Cavaletto was born in Phoenix, Arizona, where she remained until moving to San Diego, California to attend Point Loma Nazarene University. She graduated Cum Laude and earned a Bachelor of Arts degree in business administration. Upon graduation, she returned home to Phoenix, Arizona to attend Sandra Day O'Connor College of Law at Arizona State University. While in school, Kendall was part of the Lodestar Mediation Clinic, where she served as a co-mediator for civil cases in the Maricopa County Justice Courts. Kendall was also involved in the Innovation Advancement Program, where she provided legal services to start-up technology ventures under the supervision of an attorney. Additionally, Kendall was a Legal Extern for the Honorable Susan Brnovich at the Maricopa County Superior Court, and worked at the Ruth V. McGregor Project to Stop Sex Trafficking, where she assisted attorneys with providing criminal, family, and juvenile services to victims of sex trafficking.
About the Law Offices of Michael Cordova:
The Law Offices of Michael Cordova was founded in 1994 by Michael Fairbairn Cordova, a graduate of Harvard Law School. The law firm is one of the leading Plaintiff's law firms in the State of Arizona. This level of quality is demonstrated through the outcomes we work hard to attain for our clients and through the service we strive to provide. We have decades of experience and have represented thousands of clients over the years. We represent clients in the Phoenix metropolitan area and throughout the state of Arizona and are ready to assist them through their difficult time. Our experienced attorneys handle various types of cases. These cases include, but are not limited to: personal injury, dog bites, wrongful death, car accidents, motorcycle accidents, and product and premises liability.