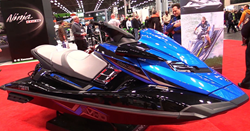 Boca Chita, Florida (PRWEB) June 06, 2017
The lawsuit was filed by Ana R., a woman who allegedly sustained injuries after sliding off a 2015 Waverunner, manufactured by Yamaha. The Defendants in the case are Yamaha Motor Corporation, USA (distributor), and Yamaha Motor Manufacturing Corporation of America (manufacturer). The lawsuit seeks damages in excess of $11,100,000.00 in compensatory damages. Attached is the copy of the complaint and case number, filed in the circuit court of Miami-Dade county.
Outlined in the attached legal complaint court document, on June 14th, 2016, in Boca Chita, Dade County, Florida, the Plaintiff was riding as a passenger on the Subject Waverunner (a 3 person craft), in the seat position closest to the rear of the watercraft. The operator had turned the Subject Waverunner at idle speed and then had begun to slowly accelerate when the Plaintiff slid off the rear exposing her vagina and rectum to the high pressure water jet. The force of the water as it exited the jet nozzle allegedly caused injuries to the plaintiff including an anorectal rupture, necessitating five surgeries, a colostomy bag and permanent scarring and disfigurement.
The Plaintiff's attorneys Robert B. Baker of Baker and Zimmerman, Parkland, FL and Brian N. Mazzola of Mazzola Law Firm, Beaumont, TX, are alleging that the design of the Subject Waverunner placed a rear rider in an dangerous situation for which they have no advanced knowledge.
The lawsuit was filed in the District Court for Miami-Dade County. Mr. Baker and Mr. Mazzola shall be holding a press conference outside the Miami Dade Circuit Courthouse located at 73 W Flagler St., Miami, FL 33130, on Wednesday, June 8, 2017 at 11:00 a.m. Additional details about this lawsuit and other similar suits shall be provided. This case number is 2017-012657-CA-01.
About Baker and Zimmerman
Over the past 20 years, the firm's trial attorneys have recovered more than $400 million in verdicts and settlements on behalf of their clients.
Source: Baker and Zimmerman