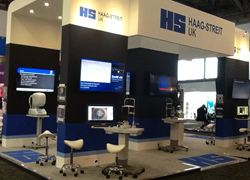 It has been another successful year for HS-UK at the 2017 RCO Congress. We unveiled some fantastic new products and there was particular interest in our FM 300 imaging module. HS-UK staff performed many demonstrations of this new equipment on the stand.
Harlow, Essex (PRWEB UK) 2 June 2017
Harlow, UK – 2nd June 2017 - Haag-Streit UK (HS-UK), the leading manufacturer and distributor of gold-standard optometry and ophthalmic equipment, exhibited at the Royal College of Ophthalmologist's (RCO) Annual Congress 2017 on the 22nd – 25th May at the ACC, Liverpool. The show was very successful for HS-UK, with three new and exciting products unveiled; the FM 300 slit lamp imaging module, Tango Reflex laser system and the Eidon AF wide-field confocal scanner.
The FM 300 fundus imaging solution allows the integration of non-mydriatic retinal imaging into a regular slit lamp examination, enhancing clinical workflow. Simple-to-use, the compact instrument provides high-quality retinal images which can rival those of a fundus camera, making it very cost-efficient.
The Tango Reflex combines multiple treatment platforms in a single advanced laser system. The laser includes four treatment modes; SLT for glaucoma, laser vitreolysis for floaters and capsulotomy and iridotomy treatments. Boasting the fastest firing rate in the industry, the system offers a proprietary slit lamp illumination tower design which provides optimised visualisation and illumination of the vitreous.
The Eidon AF offers unparalleled high-quality, wide-field imaging, with added autofluorescence image capability. The mosaic function allows the system to capture images up to 150°, providing a panoramic view of the retinal autofluorescence.
Other products exhibited at the show included; the Haag-Streit Surgical Hi-R NEO 900 microscope, LENSTAR biometer, AngioVue OCT-A system and the BQ900 LED slit lamp with IM900 imaging module.
Sharon Mills, HS-UK Marketing Manager, said "It has been another successful year for HS-UK at the 2017 RCO Annual Congress. We unveiled some fantastic new products and there was particular interest in our FM 300 imaging module. HS-UK staff performed many demonstrations of this new equipment on the stand over the four-day event. The Congress is always a key event in the HS-UK calendar, as it enables us to meet with our valued customers."
For future information regarding HS-UK products, contact Haag-Streit UK on (01279) 883807, email info@haag-streit-uk.com or visit http://www.haag-streituk.com