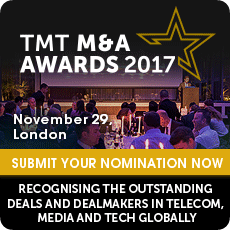 London, UK (PRWEB UK) 2 June 2017
A new global awards programme, ceremony and gala dinner, TMT M&A Awards 2017, has been announced to recognise the outstanding mergers and acquisitions, dealmakers and advisers in telecoms, media and technology.
"Merger and acquisition activity across the telecom, media and tech sectors has been growing rapidly in size and complexity, so we have expanded our existing awards programme to recognise the most active dealmakers and advisers," said Dominic Lowndes, Managing Director of TMT Finance, the programme developer.
TMT M&A Awards 2017 will be presented to the leading industry CEOs, CFOs and Heads of M&A, Investment Bankers, Lawyers and Merger and Acquisition Advisers in TMT at the Grange St Paul's London on November 29.
"Each award will be judged by a public panel of the leading TMT industry, finance and advisory executives and presented to the most exciting and challenging deals. We will also announce our TMT M&A League Tables of Banks and Advisers for successful transactions in Telecom, Media and Tech," added Lowndes. "It's a great opportunity to celebrate the brave and innovative investment activity and benchmark the most successful strategy, legal and financing transaction advisers."
Nominations opened on June 1 and close on September 30, with Shortlists announced on October 7.
TMT M&A Awards 2017 Award Categories:
Deals of the Year

Telecom M&A Deal of the Year
Media M&A Deal of the Year
Technology M&A Deal of the Year
Telecom Infrastructure M&A Deal of the Year
Fintech Deal of the Year
Software Deal of the Year
Cloud Services Deal of the Year
TMT IPO of the Year
TMT Financing Deal of the Year - Debt and Equity
Advisers Awards

TMT M&A Adviser
Telecom M&A Adviser
Media M&A Adviser
Tech M&A Adviser
TMT M&A Legal Adviser
TMT M&A Financing Bank
Companies and People

TMT M&A Growth Story
TMT M&A Leadership Award
TMT M&A Adviser - Person
TMT M&A Banker - Person
TMT M&A Lawyer - Person
TMT M&A Adviser - Rising Star
TMT M&A Awards, are nominated by readers of TMT Finance and assessed by its globally renowned Judging Panel of investors, executives and advisers. Separate categories are recognised for regions of Europe, Middle East Africa, Asia and Americas.
Each Award recognises outstanding achievements by telecom, and media companies, senior executives and their investment banking and legal advisers.
The TMT M&A Awards 2017 Ceremony and Gala Dinner follows TMT Finance World Congress 2017 which gathers the leading TMT executives, investment bankers, investors and advisers to assess investment opportunities internationally.
For more details go to TMT M&A Awards 2017