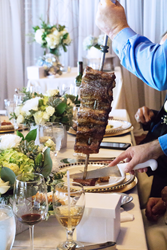 Houston (PRWEB) June 05, 2017
Woodlands, Southwest Houston and Clear Lake residents will be able to celebrate dad's day of the year with loved ones at Tradicao Brazilian Steakhouse and Avenida Brazil on Father's Day, June 18. The restaurant will be serving a high energy, Brazilian style meal from 11 AM-9:00 PM. The restaurant will be serving a Limited Time Texas Kobe sausage from Heartbrand Beef for the day.
"This is the day to treat dad and thank him for all he does!" Melissa Abrantes, Tradicao Operations director said. "We want to provide the opportunity for families to be together and have dad enjoy our endless 15 signature cuts of meat served straight from the grill along with our freshly baked cheese bread and salad bar and not worry about dishes after!"
Tradicao Brazilian Steakhouse offers diners a full all-you-can-eat Brazilian dining experience. From the traditional Picanha top sirloin steak and Filet Mignon served tableside to delicious shrimp and fresh salmon - Tradicao Brazilian Steakhouse has all of the best Brazilian steak and seafood offerings.
Father's Day Prices & Options
11 AM-3 PM Brunch Buffet | $30 Brunch & Salad Bar | $49 Grilled Meats. Salad Bar, Brunch & Hot Sides
4 PM-9 PM Dinner | $49 Grilled Meats. Salad Bar, & Hot Sides
They have three locations to choose from –Woodlands at 1400 Research Forest Dr. Shenandoah TX, Southwest Houston/Fort Bend at 12000 SW Freeway or in Clear Lake/Webster at 201 W. Bay Area Blvd. To contact the Woodlands location call 281-651-5369, for the SW Freeway location call 281-277-9292. To reach the Bay Area Blvd. location, please call 281-557-9999.
More information about Tradicao Brazilian Steakhouse is also available on their website at
http://www.Tradicaosteakhouse.com.