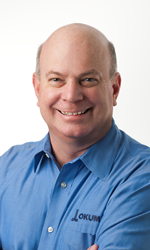 Charlotte, NC (PRWEB) June 07, 2017
CHARLOTTE, N.C. (June 7, 2017) – Okuma America Corporation, a world leading builder of CNC machine tools, is a sponsor of ESPRIT's World Conference 2017, June 12-16, Universal City, California. Jeff Estes, Director of Partners in THINC for Okuma, is a featured speaker and will cover the following topics:
The value of the ESPRIT/Okuma relationship for end users: Customers received post processors and tool-paths crated by talented ESPRIT developers working side-by-side with Okuma applications engineers in the Charlotte facility. This provides accurate posts that work out-of-the-box. ESPRIT and the customer can use their combined talents to tune this working post to their specific needs.
Okuma's new technologies and the capabilities these provide: Working closely with ESPRIT on process development will be paramount to utilizing these exciting technologies to their fullest potential.
Industrial Internet of Things (IIoT): What is Okuma doing in this area? How important is it to manufacturing companies? Is simulation an IIoT component? The same model used in CAM will drive IIoT data.
Registration for the ESPRIT World Conference 2017 is currently open and is available at the conference website. Questions may be emailed to Catalin.kreis@dptechnology.com or call 805-388-6000, ext 107.
Okuma America Corporation is the U.S.-based sales and service affiliate of Okuma Corporation, a world leader in CNC (computer numeric control) machine tools, founded in 1898 in Nagoya, Japan. The company is the industry's only single-source provider, with the CNC machine, drive, motors, encoders, and spindle all manufactured by Okuma. The company also designs their own CNC controls to integrate seamlessly with each machine tool's functionality. In 2014 Okuma launched the Okuma App Store, the industry's only centralized online marketplace for machine tool apps and related content. Along with its extensive distribution network (largest in the Americas), and Partners in THINC, Okuma is committed to helping users gain competitive advantage through the open possibilities of machine tools, today and into the future. For more information, visit http://www.okuma.com/americas or follow us on https://www.facebook.com/OkumaAmericaCorporation or Twitter @OkumaAmerica.