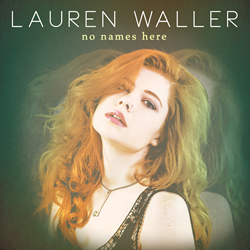 "Artist to Watch"- Young Hollywood
Los Angeles, California (PRWEB) June 02, 2017
Musician Lauren Waller recently featured in Young Hollywood, as an "Artist to Watch," and her new EP, "no names here", noted as a "Must Add," to your playlist, hits Hollywood with an artistic blitz this summer.
The rising singer/songwriter's single "Secret Garden" off her new release has been described by Ultimate Music as "A cinematic dark pop piece wrapped with her soulful vocals." Waller recently showcased the release "no names here" in Hollywood at the prominent MUSEXPO 2017, and also at The Hotel Cafe, a renowned Hollywood music venue.
Waller is further showcasing a range of musical and artistic powers. She is part of the production team for a limited run of "The Interference" a brisk, riveting, and perceptive play at the upcoming Hollywood Fringe Festival. Waller is stage-managing the play written by Glasgow based Irish playwright, Lynda Radley. "The Interference" received notable awards and accolades with it's 2016 premier in Scotland. Set against the backdrop of campus sexual assault, the American premier of "The Interference," explores varying aspects, distortion, and opinion in the aftermath of a complicated rape case. Broadway Baby notes," This is a devastatingly brilliant piece of theatre". The Interference will be presented at the Met Theatre, June 6, 7, and 8, 2017.
Waller continues her artistic outpouring with a live concert performance to support her new release "no names here " at Hollywood's landmark Sunset Strip hangout, The Viper Room, on June 21, 2017. Her talent in writing lyrics with an edge, combined with performance and production abilities allows her to enhance her craft by cross-connecting platforms to create artistic events. She finds artistic inspiration in thoughtful discourse, life experiences, and, a myriad of collaborative art forms.
Waller previously premiered her debut 2016 single "Never Were" live on national television in Ireland. She has received radio airplay support both in the United States and internationally for several of her songs. Click for free streaming of Lauren Waller's EP "no names here". https://soundcloud.com/lauren-waller-8/sets/no-names-here