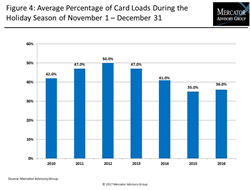 The closed-loop gift card market has opportunities to continue to grow as retailers learn new ways to make use of their branded currencies in omnichannel commerce.
Boston, MA (PRWEB) June 05, 2017
Mercator Advisory Group's new research report, Retail Gift Card Trends in the United States: 2016 in Review, documents the dollars loaded in 2016 onto closed-loop prepaid cards or prepaid account access devices issued by retailers. Gift card load growth returned in 2016 as consumers bought more cards, and retailers began to use more of them for incenting consumer behavior.
While no single factor accounts for the renewed growth of the gift card market, Mercator Advisory Group believes that e-commerce has likely played a role. Prepaid cards offer a source of good funds that can be sold and redeemed in every channel. They also offer a way to connect immediate value with customers and prospects through loyalty and incentives programs. These factors likely influenced gift card trends positively.
Except for load estimates, all the charts and tables in this report represent the average reported percentage of total loads, whether the cards were issued for direct-from-consumer loads or as incentives or other business-to-business purposes. The report covers information on form factors, average card loads, and reloads. Distribution information has been excluded from the report and will be explored in future research.
"Closed-loop gift cards continue to be popular for retailers and their customers," said Ben Jackson, the Director of Mercator Advisory Group's Prepaid Advisory Service and author of the report. "The closed-loop gift card market has opportunities to continue to grow as retailers learn new ways to make use of their branded currencies in omnichannel commerce."
Highlights of the report include:

The closed-loop, In-Store gift card segment returned to growth 2016 after seeing a decline in 2015.
There was a slight decline in the Employee and Partner Incentives segment, reflecting a decrease in spending in certain programs.
Loads in the Consumer Incentives segment climbed in 2015 as the emphasis seemed to shift in the incentives market.
Gift card trends are influenced by larger trends, and a growth in e-commerce may be helping to fuel the growth of gift card loads as shoppers look to gift cards as branded currency for shopping online.
Reported virtual card load volumes seemed to moderate in 2016, but mobile card loads grew.
Reloads as a percentage of total volume have become a significant part of the market.
This report contains 17 pages and 10 exhibits.
Members of Mercator Advisory Group Prepaid Advisory Group have access to this report as well as the upcoming research for the year ahead, presentations, analyst access, and other membership benefits.
Please visit us online at http://www.mercatoradvisorygroup.com.
For more information and media inquiries, please call Mercator Advisory Group's main line: (781) 419-1700 or send email to media(at)mercatoradvisorygroup(dot)com.
Follow us on Twitter @ http://twitter.com/MercatorAdvisor
About Mercator Advisory Group
Mercator Advisory Group is the leading independent research and advisory services firm exclusively focused on the payments and banking industries. We deliver pragmatic and timely research and advice designed to help our clients uncover the most lucrative opportunities to maximize revenue growth and contain costs. Our clients range from the world's largest payment issuers, acquirers, processors, merchants and associations to leading technology providers and investors.