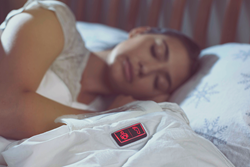 We're certainly not the first to bring heated blankets to the marketplace, but the SereneHeat Blankets are the safest, more durable, highest quality heated blankets on the market today
Provo, Utah (PRWEB) June 02, 2017
Ravean, known for its state-of-the-art heated jackets and accessories, has used its expert heating technology to develop SereneHeat Blankets and Comforters – and crowdfunding backers have sent presales of the new products well over the company's campaign goal initial goal of $20,000 on Kickstarter.
"We're certainly not the first to bring heated blankets to the marketplace, but the SereneHeat Blankets are the safest, more durable, highest quality heated blankets on the market today," Ravean Co-founder Bryce Fisher said. "Also, with three-level temperature controls and separate heating zones on each blanket, these blankets make it easier for couples to adjust the heat and find their own personal comfort settings. With the blankets, along with the first-ever heated comforter, it's easy to take control of your side of the bed."
The Ravean SereneHeat line of products includes twin and queen-size heated luxury plush microfleece blankets and a 90-by-90 inch heated down comforter.
Features include:

High, medium and low temperature controls
Easy access integrated controller
Dual-zone heating area control
Ultra-safe heating low voltage system
Heated carbon fiber technology
Intelligent shut off
100 percent washable
Ultra-soft materials for added comfort
The twin throw has two heating areas on the upper and lower sections of the blanket, while the queen-size blanket and down comforter have four separate heating areas.
Fisher notes that the heated carbon fiber technology means the heating elements in any of the SereneHeat blankets or comforters are virtually undetectable, as well as safe and comfortable.
"With our patented low-voltage system, all our SereneHeat bedding products are safe enough for anyone to use, with all our blankets and comforters safeguarded from wetness, ripping and other damage-related issues," Fisher said.
For more information about SereneHeat Blankets and Comforters, or to purchase either product at a discounted price during crowdfunding, visit the SereneHeat Campaign Page on Kickstarter.
About Ravean
Let's be real here for a moment; we're not the first people to come up with the idea of heated jackets or heated gloves. We're just the first ones to do it right. By doing it right we mean our jackets look good, they're durable, they're affordable and they integrate our technology seamlessly and unobtrusively. Finally, there's a heated jacket you can wear with equal comfort and style from the mountains to the office without missing a beat. Sure, it's been tried before, but other solutions have been pricey, ugly and the technology was problematic. Ravean has addressed and solved each of these issues to present jackets you can wear anywhere, that are as stylish and durable as they are warm and cozy. For more information, visit ravean.com.