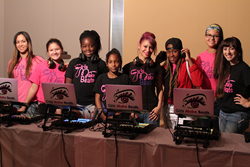 ...to be able to encourage and empower young women to follow their love for audio is a perfect alignment of our core values here at SAE Institute.
New York, NY (PRWEB) June 05, 2017
SAE Institute, a global leader in creative media education, has announced its partnership with Girls Make Beats Inc., a nonprofit organization aiming to empower girls pursuing a career in audio, to host a multi-city summer tour.
Girls Make Beats is a 501 (c)(3) nonprofit organization based in South Florida that encourages girls ages 8-17 to pursue a career in the audio industry by expanding the female presence of Disc Jockeys, Music Producers, and Audio Engineers. Founded in late 2012 by certified audio engineer, music producer and recording artist, Tiffany Miranda; Girls Make Beats encourages young girls to pursue their passion in audio and music production by offering internships and the opportunity to unite and collaborate with other music industry professionals.
Girls Make Beats will be partnering with other industry leaders such as iHeartRadio, Ableton, Velocity, Gulfstream Park, Guitar Center, Studio Center Miami and title sponsor, Toyota for the Summer Tour. In partnership with SAE Institute, Girls Make Beats will host beat making and deejay workshops using Ableton and Serato software at five SAE Institute locations within the United States:

SAE Institute Atlanta: July 3rd-7th
SAE Institute Chicago: July 10th-14th
SAE Institute Los Angeles: July 17th-21st
SAE Institute San Francisco: July 24th-28th
SAE Institute New York: August 14th-18th
"The goal of our summer tour initiative is to introduce teen girls to the fields of music production, DJ'ing, and audio engineering, while simultaneously connecting them with a reputable educator like SAE Institute where they can continue their learning to pursue a career in audio," says Tiffany Miranda.
Over the course of the 5-day workshop, the girls will gain hands on experience with beat making and deejay software, followed by a performance opportunity, and an exclusive music industry panel. Workshop attendees will also have the opportunity to visit iconic recording studios in every city, including Paramount Pictures and Record Plant Recording Studio in Los Angeles, Platinum Sound Recording Studio and Atlantic Records in New York City, Patchwerk Recording Studios in Atlanta and select iHeartRadio stations.
"We are very excited about partnering with Tiffany and Girls Make Beats," says Michael Bottrill, President and General Manager of SAE Institute North America. "The spirit of SAE Institute was born out of the idea of following one's passion for the creative arts, and to be able to encourage and empower young women to follow their love for audio is a perfect alignment of our core values here at SAE Institute."
This is a free workshop and space is limited to 12 girls per city. Registration is now available online at http://www.girlsmakebeats.org/summer-registration.
About SAE
SAE Institute provides aspiring creative media professionals with a foundation of practical theory and valuable hands-on training in their chosen areas of concentration. Under the guidance of industry-experienced faculty, students gain the essential experience they need for entry-level jobs in the creative media industry. Students are supported in their job searches by SAE Institute's international network of alumni, many of who are leaders in the music, film, game arts, and live performance arenas. SAE Institute offers accredited programs in Audio, Animation, Film, Games, and Music Business focused on preparing students for employment in the creative media industry upon graduation. SAE Institute Group, Inc. is a part of Navitas LTD. Learn more at usa.sae.edu.
About Navitas
Navitas is an Australian global education leader, providing pre-university and university programs, English language courses, migrant education and settlement services, creative media education, student recruitment, professional development, and corporate training services to more than 80,000 students across a network of over 120 colleges and campuses in 31 countries. Learn more at Navitas.com.