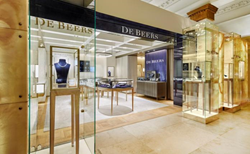 (PRWEB) June 02, 2017
First opened in Harrods in 2006, De Beers has transformed the space with a warm and elegant concept, in line with the recently opened Madison avenue store. Every aspect of the store has been carefully considered, incorporating a luminous design style alongside the signature codes that have long emphasised our exceptional jewellery creations. Today, the store reflects the unrivalled heritage of De Beers Diamond Jewellers, and showcases the peerlessly beautiful diamonds that set, rather than follow, all other standards in the world of diamond jewellery.
"We are delighted to unveil our new home at Harrods. We have designed this new space with our local and international clients in mind to fully express our brand's uniqueness and convey our century old diamond understanding in a friendly yet refined setting. Through this beautiful space, dedicated to our craft, we invite our clients to an intimate and personal experience where expertise meets emotion."
François Delage, CEO, De Beers Diamond Jewellers.
The De Beers experience in Harrods begins with an eye-catching façade; blending the deep blue colour palette with the luminous, champagne-tinted etched glass that has become a recognisable signature of De Beers around the world.
The store concept was developed to showcase a varied array of De Beers' timeless jewellery creations in an atmosphere of welcoming comfort and warmth. Each element has been especially tailored to guide the jewellery devotee through the jewellery collections, including the iconic Talisman and Lotus collections, the new DB Darling diamond engagement ring and De Beers' unrivalled High Jewellery. Inside, the focus on refined, feminine luxury continues with noble materials, discreet partitions and statement furnishings. De Beers has partnered with the finest artisans to create this unique space, focusing on the use of subtle contrasts, including silk and wool, refined fabrics, natural oak from sustainable forests and translucent glass, to create a singular atmosphere.
The design-focused interior captures the light in myriad ways, just as De Beers diamonds sparkle from every angle. The interplay of varied light within the store is led by an exceptional and natural rock crystal chandelier. The boutique's focal point emits a warm light that combines beautifully with the tailor-made furniture and rich fabric textures. Every effort has been made to reduce the store's carbon footprint, including using only low-power lighting sources.
High Jewellery is meticulously presented in a round discovery counter, while bridal and wedding designs are presented dynamically in a curved counter at the heart of the store. Clients are invited to explore each diamond design or create their own solitaire ring via our 'For you, Forever' service, while enjoying the intimacy of one of two private salons. From there, clients are guided into their own unique world and supported by the expert knowledge of our in-store ambassadors.
Visitors to the store will be taken on a journey from rough natural diamonds to romantic jewellery, while marvelling at the Legendary Diamonds and iconic fancy coloured diamonds that mark key moments in our heritage. At De Beers, the most peerlessly beautiful polished diamonds start life as beautiful rough diamonds. These ancient natural treasures are symbolic of a time of myth and legend, when diamonds were compared to fallen stars and praised for bringing luck and protection. This history is celebrated in-store, with customers invited to hold rough diamonds in their hands and experience their unique properties for themselves.
De Beers proudly offers peerlessly beautiful diamond jewellery where experts at the De Beers Institute of Diamonds select each diamond individually and choose only those with perfect facet angles and alignment. De Beers' selection standards go above and beyond the Four Cs with the De Beers cut. A perfect example of the De Beers cut is the new standard that has been set for round brilliant diamonds: The De Beers True Brilliant, the finest round brilliant diamond and a cut above all others. Perfect angles and alignment of all facets produce the highest light reflection possible, ensuring the diamond sparkles from every angle regardless of colour or clarity.
When purchasing a diamond at De Beers, customers are invited to peer into the heart of their diamond for themselves with the De Beers Iris. Exposing the diamond to light, this in-store demonstrator allows the customer to visualise the perfect light reflection and discover exactly why their diamond is incomparably beautiful. The De Beers Iris allows them to compare two diamonds, with the same Four Cs, and see how one can be dull and lifeless whilst the other sparkles like a firework.
To celebrate the opening of the new De Beers store in Harrods, guests will be invited to step into the De Beers world and experience the triumphs of discovery, design and integrity that make De Beers unique.
ABOUT DE BEERS DIAMOND JEWELLERS
The Home of Diamonds since 1888, De Beers creates wondrous jewels with peerlessly beautiful diamonds to celebrate all of life's events. Over 125 years of diamond mastery go into creating each individual design. De Beers is entirely committed to authenticity and integrity. De Beers meticulously hand-selects the world's finest diamonds for their unique Fire, Life and Brilliance.
Every diamond above 0.20 carats is microscopically branded with the De Beers Marque and catalogued in the De Beers diamond registry. Every client receives a De Beers Certificate of Authenticity detailing the specifications of their jewel and guaranteeing that De Beers diamonds are natural, untreated, conflict-free and responsibly sourced and crafted, for complete peace of mind.
For further information and exclusive images please contact:
Pooja Johari
Marketing & Communications Manager
T + 1 212 751 2147
Email : pjohari(at)debeers(dot)com
http://www.debeers.com
THE HOME OF DIAMONDS SINCE 1888