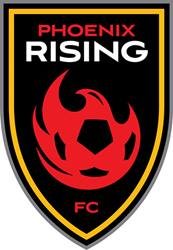 We're excited to offer our support to a local team that shares many of the same values we honor as a cooperative.
Phoenix, AZ (PRWEB) June 06, 2017
Phoenix-based cooperative Arizona Federal Credit Union announced today they have joined Phoenix Rising Football Club as their exclusive financial partner. Through this collaboration with the fast-growing soccer team, Arizona Federal builds upon its rich tradition of local community involvement and creating partnerships that resonate with current and future credit union members.
Besides increasing awareness of the credit union among the team's passionate fan base, Arizona Federal will be working with Phoenix Rising FC to expand the reach of the credit union's financial education initiatives – with the goal of helping younger consumers build better financial habits that they can carry with them through the rest of their lives. The sponsorship includes participation in youth soccer camps and other charity events.
"Partnering with Phoenix Rising offers us the chance to became more involved in the community, and we're excited to offer our support to a local team that shares many of the same values we honor as a cooperative," said Jason Paprocki, chief operating officer and executive vice president at Arizona Federal Credit Union.
"Their current fan base is mainly comprised of younger, tech-savvy consumers," Paprocki added. "These are members of our community who are graduating with record-breaking student loan balances and are missing important money management skills. We can help them learn those skills."
"The leaders of Arizona Federal Credit Union have been passionate supporters of Phoenix Rising FC since we launched our inaugural season early this year," said Phoenix Rising FC Club Governor Berke Bakay. "We are honored to formally become their partner, help them set a positive example for youth sports fans in the Valley and also assist them in teaching fiscal responsibility."
The three-year partnership will kick off at the Phoenix Rising FC home game on June 10, against the Whitecaps FC 2, and will last through the 2019 soccer season. The partnership will include discounted game tickets for Arizona Federal Credit Union members, giveaways, home game theme nights, and exclusive branded financial products to be announced at a later date.
About Arizona Federal Credit Union
Arizona Federal is a $1.5 billion not-for-profit financial cooperative providing financial services and expertise to more than 120,000 member/owners. Founded in 1936, the organization takes its mission of financial empowerment and mutual benefit to heart by providing members cutting-edge self-service tools, financial coaches, identity protection services, and annual member payouts when the cooperative does well. Arizona Federal has locations across the Phoenix metropolitan area. Deposits are insured by the National Credit Union Administration.
CONTACT:
David Kexel
Senior Director of Marketing
Arizona Federal Credit Union
PO Box 60070
Phoenix, AZ 85082-0070
(602) 683-1000
http://www.ArizonaFederal.org
About Phoenix Rising FC
Phoenix Rising FC is the highest-level professional soccer franchise in Arizona's history. Established in 2013, the club enters its fourth year in the United Soccer League, which has been awarded Division 2 status by the U.S. Soccer Federation. Major League Soccer (MLS) recently announced Phoenix Rising FC as among 12 applicants being considered for a MLS Expansion Franchise. All five of Phoenix Rising FC's home matches that have occurred so far during the 2017 season were played before a sold-out, standing-room-only crowd in its new, soccer-specific stadium located at the northwest corner of the 101 and 202 freeways in south Scottsdale. For more information about the club, visit the team's website at PhxRisingFC.com. You can also follow the team on Facebook (PHXRisingFC), Twitter (@PHXRisingFC), Instagram (@PHXRisingFC), Snapchat (PHXRisingFC) and YouTube (PhoenixRisingFootballClub). For season tickets or single-game tickets call (623) 594-9606 or visit PHXRisingFC.com.
CONTACT:
H. Jose Bosch
Media Relations and Communications Manager
Phoenix Rising Football Club
1 N. 1st Street
Phoenix, AZ 85004
(540) 435.6097
jose(at)phxrisingfc(dot)com
http://www.PhxRisingFC.com