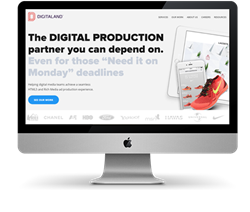 "In this industry, every second counts."
Miami FL (PRWEB) June 04, 2017
Digitaland, a digital production agency specializing in scalable digital advertising solutions for brands, recently announced the launch of their redesigned website. The revamp makes the site more user-friendly for brands looking for digital ad solutions to capture consumer attention across all their devices.
"We've seen a big shift in the type of inquiries we're getting for digital ads and banner ads," said Digitaland VP Managing Director Yoni Levy. "Historically, most of the questions we've fielded come from agencies. In the past year, we've been approached by a significant number of brands looking for a digital production partner that can function like an in-house team."
The shift comes amidst a steady increase in display advertising spend. Brands earmark substantial budgets to snag consumer attention and Digitaland says time is of the essence.
"In this industry, every second counts," said Levy. "HTML5 ad technology makes it possible for brands to turn virtually any idea into a digital ad reality. But they need to act fast, before a competitor moves on the idea.
That's why more brands are bypassing traditional agencies and going directly to digital production agencies. The brands have the assets and the ideas. The roadblock is execution. They need a digital production partner that can turn those ideas into realities, fast."
As consumers increase their screen time and number of devices, brands and their ad agencies are looking for solutions that enable them to connect with distracted audiences.
Digitaland thinks the solution is simple: show consumers better digital ad creative.
"You'll hear a lot of industry people say consumers are banner blind and advertising is dead," said Digitaland Production Manager Juan Manuel Sosa Vives.
"But consumers aren't really banner blind. They're just tired of ads that are intrusive and irrelevant. Brands can improve the customer experience and the industry by focusing on creative first. Build better digital ads and consumers will take notice. That's what we want to convey with our new site."
About Digitaland
Digitaland is a digital production and creative agency headquartered in Miami, Florida. We specialize in creating cross-screen, rich media ad campaigns at scale. We build everything from HTML5 standard banners to high-impact ad formats like game ads, interactive landing pages and more. Our high-volume capabilities and fast turn times enable brands to launch campaigns faster and reach audiences on any device.
Press Contact
Yoni Levy
305-709-0737