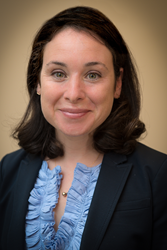 PHILADELPHIA (PRWEB) June 05, 2017
The national law firm Chamberlain, Hrdlicka, White, Williams & Aughtry is pleased to announce the hiring of senior counsel Catherine Berryman. Berryman focuses her practice in the areas of civil and commercial litigation, employment law, and education law.
Berryman often is consulted as an independent Title IX investigator for educational institutions on issues related to sexual assault, sexual harassment, or intimate partner violence. She has conducted more than 30 investigations for educational institutions. In addition, she has represented institutions in civil rights litigation and contract claims matters. She has represented companies in matters related to wrongful termination, sexual harassment, and sexual discrimination.
Prior to moving to civil practice, Berryman was a public defender at the Defender Association of Philadelphia for nearly a decade. As a public defender, she tried more than 100 bench trials and 20 jury trials. She regularly represented clients in high-publicity, complex criminal cases.
In addition to her law practice, Berryman has taught trial advocacy at the Widener University Delaware School of Law. She holds a bachelor's degree from Wesleyan University and a law degree from University of Minnesota Law School.
About Chamberlain Hrdlicka – Chamberlain Hrdlicka is a diversified business law firm with offices in Houston, Atlanta, Philadelphia and San Antonio. The firm represents both public and private companies as well as individuals and family-owned businesses across the nation in a wide variety of practice areas, including commercial and business litigation, tax, tax controversy and litigation, federal white-collar criminal defense, corporate, securities and finance, employment law and employee benefits, energy law, estate planning and administration, intellectual property, international and immigration law, and real estate and construction law.
# # #