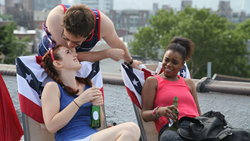 E'dena was an incredible and loving human being who illuminated any room she entered.
Los Angeles, CA (PRWEB) June 05, 2017
The feature film World Premiere of "Landing Up" (Bold Compass Films) is a story about a girl with nothing to lose and everything to hide, directed by Dani Tenenbaum and produced/written by Stacey Maltin. The narrative feature stars Maltin ("Working On It," "Lipstick Jungle"), Ben Rappaport (ABC's "For the People," USA's "Mr. Robot"), E'dena Hines ("5 Flights Up," "Moll Flanders"), Dov Tiefenbach ("Harold & Kumar Go To White Castle, "Homeland"), Theodora (Woolley) Miranne ("The Blacklist: Redemption," "Blue Bloods") and Jay DeYonker ("Royally," "Puerto Ricans in Paris"), and is an Official Selection in Competition Features at Dances With Films, screening on Wednesday, June 7, 2017, at 9:30 p.m., at the TCL Chinese Theatres, located at 6801 Hollywood Boulevard, Hollywood, California. The East Coast Premiere will be held on Saturday, June 17th at 6:30 p.m. as an Official Selection of the Soho International Film Festival, screening at Village East Cinema (181-189 2nd Ave, New York, NY 10003).
Chrissie (Stacey Maltin) is young, wild, and living on the streets. She and her best friend Cece (E'dena Hines) use their youth and good looks to their advantage, playing a con game with strangers to put a roof over their heads, while all the time fantasizing about having enough money to score their dream apartment. When Chrissie meets David (Ben Rappaport), a funny, genuine guy who works his way into her heart, she falls for him and must decide whether to confess the real circumstances of her life or continue her carefully crafted lie at all costs—even the cost of someone's life. (Running time: 98-minutes)
Filmmaker and star Stacey Maltin says, "The film exists in two worlds: Chrissie's life on the street and her romantic life with David. Chrissie's life on the street is gritty and dangerous, but when Chrissie meets David, her world explodes into color. He's everything she always wanted and the film jumps in tone and style to almost a romantic comedy feel. Ben has no idea of the realities that Chrissie is facing. Her life is so far outside his realm of comprehension he never suspects her secret, even as she hides the truth from him at every turn."
 
Director Dani Tenenbaum adds, "We are showing how people often exist in different parts of themselves. Chrissie's carefully crafted lies lead her into a world that turns into a very real feeling of love. But can you ever really know someone if we all spend so much time crafting the perfect stories about ourselves? "
This film has a tragic real life story as well. Just one month after principal photography wrapped, Maltin's co-star E'dena Hines was tragically murdered by her boyfriend, which was devastating to the cast and crew. The story made national headlines, in part due to E'dena being the granddaughter of acting icon Morgan Freeman. "Landing Up" is E'dena's last on-screen performance.
Maltin adds, "E'dena was an incredible and loving human being who illuminated any room she entered. She had so much talent and this energy that was so raw and magnetic. She really gave herself over to playing Cece and it's reflected in her performance. We miss her every day and wish she could have seen what she created with us."
Because of this tragic violence in real life, which happens all too often against women in the world, and because the film tackles homelessness, the filmmakers felt it was paramount to give their audience a call to action. They have partnered with the non-profit organizations Midnight Mission, which offers paths to self-sufficiency to men, women and children who have lost direction, and LA Family Housing, which helps people transition out of homelessness and poverty, to help raise awareness for these issues.
If anyone is inspired to take action and make a difference, he or she can volunteer or make a donation to these organizations. To donate to Midnight Mission, text JustOne to 41444. To donate to LA Family Housing, please visit http://lafh.org/donate/.
The next project from Tenenbaum and Maltin is "Head," a feature film about a gay millennial on the brink of full-time adulthood and dismayed to see all of his friends pairing up instead of getting off. When his ex-boyfriend reappears in his life at the same time as a new beau, he must decide whether to jump into the future or stay in the ever-tempting loop of instant pleasure.
Worldwide Rights for "Landing Up" are available.
For tickets to the World Premiere, please visit: https://danceswithfilms.com/landing-up/.
For tickets to the NYC Premiere, please visit: https://tinyurl.com/LUsoho
For more information about the film, go to: http://www.landingupfilm.com.
About Bold Compass Films
Bold Compass Films makes compelling and entertaining films that explore the dark, funny, and absurd corners of modern life. The company motto is "Realistic filmmaking in a fictional world." Founders and producers Stacey Maltin and Dani Tenenbaum strive to tell stories from a point of view that has not often been explored and illuminate aspects of the human condition in a way that only independent film can. 
How You Can Help - The Midnight Mission
Founded in 1914, The Midnight Mission offers paths to self-sufficiency to men, women and children who have lost direction. Our emergency services and 12-step recovery, family living, job training, education and workforce development programs offer a compassionate bridge to achieve and maintain healthy, productive lives.   We remove obstacles and provide the accountability and structure that people who are experiencing homelessness need to be productive in their communities. Our conviction and commitment to their success define us. For additional information, please visit http://www.midnightmission.org. To make a donation, text JustOne to 41444.
About LA Family Housing
LA Family Housing (LAFH) helps people transition out of homelessness and poverty by providing a continuum of housing enriched with supportive services. Since 1983, LAFH has become one of the largest comprehensive real estate developers and homeless service providers in Los Angeles and a regional leader providing solutions to end homelessness. To donate to LA Family Housing, visit http://lafh.org/donate/.
###
Website: https://www.landingupfilm.com/
Twitter: @landingupfilm / https://twitter.com/landingupfilm
Facebook: https://www.facebook.com/landingup
IMDB: http://www.imdb.com/title/tt4764490/