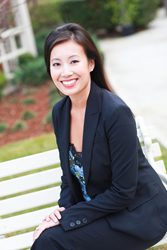 "Emily reflects our employee-first corporate culture which has led to a mutual respect amid her staff." - Judy Meleliat, President Aegis Living
Bellevue, WA (PRWEB) June 05, 2017
Aegis Living is honored to announce that our Executive Director of Aegis Gardens in Fremont, Emily Poon, has been chosen amid hundreds of California assisted living communities to receive the California Assisted Living Association's prestigious Outstanding Executive Director Award for 2017.
Emily will receive her award today at the CALA Spring Conference & Trade Show in Burlingame. CALA chooses recipients amid their 575 provider members statewide based upon the recipient's commitment to providing outstanding, quality care and service to residents in the communities where they work.
Emily has led Aegis Gardens, Aegis Living's first Chinese culture-centered community for more than 14 years as a top performer in the company's portfolio of assisted living and memory care communities on the West Coast. Aegis Living President Judy Meleliat says, "We see Emily Poon's leadership stand out within our company, and we are completely thrilled that she is seen as a leader in the state of California. Emily reflects our 'employee first' corporate culture which has led to a mutual respect amid her staff. The CALA award is both humbling and appreciated by all in our company."
Poon has grown her career after starting as a resident services director. In her first two years, she became known as a mentor to other care directors before being promoted to general manager.
Aegis Gardens is a distinctive community that celebrates Chinese and Asian culture in programs, care and authentic cuisine. Residents and family members appreciate how Emily and her team honor their Chinese traditions while successfully balancing elements of Eastern and Western culture. The Life Enrichment activity programs includes favorites such as afternoon tea, calligraphy, and Chinese chess. Exercise programs such as Tai Chi have led to almost non-existent resident falls to the extent that these programs are now promoted company-wide. In 2016, satisfaction scores at Aegis Gardens were among the highest in the company as is the community's financial performance.
About Aegis Living
Aegis Living is a national leader in assisted living and memory care. Founded in 1997 and headquartered in Bellevue, Washington, Aegis Living operates 28 communities in Washington, California and Nevada with 7 in development including the second Chinese culture centered community, Aegis Gardens in Newcastle, WA.