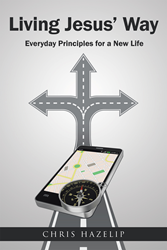 JACKSONVILLE, Fla. (PRWEB) June 12, 2017
Long-time trial lawyer and teacher Chris Hazelip brings the disciplines of his profession to a decades-long study of the life and teachings of Jesus in his new book, "Living Jesus' Way."
Hazelip's practice as an attorney has given him a unique perspective in his review and analysis of Jesus' teachings. In the book, he draws on the disciplines of his profession and case experiences to invite readers to a fresh and practical understanding of Jesus' words of life, which he says are intended for everyone.
"This book presents a comprehensive review of Jesus' teachings about how we are designed to live and distills them into 12 principles," said Hazelip. "If we apply these principles, our experience and quality of life will be transformed for the better – no matter who we are or what our circumstances."
With the desire to help readers sift through popular representations of Christianity and come away with a practical understanding of a genuine faith according to Jesus' words, Hazelip's book will motivate readers to see life as they were meant to live it. It has been described as "…a handbook that reads as a fresh, insightful, and essentially optimistic summation of the heart of Jesus' teachings" and "[a] bracingly clear and forceful exposition of Christian philosophy" by Kirkus reviews.
"Living Jesus' Way"
By: Chris Hazelip
ISBN: 978-1-5127-7017-9 (sc); 978-1-5127-7018-6 (hc); 978-1-5127-7016-2 (e)
Available on WestBow Press, Amazon and Barnes & Noble
About the author
Chris Hazelip is a graduate of Wheaton College, with a bachelor's degree in Philosophy, and the University of Florida, where he received his JD degree and served as an editor of the Law Review. Hazelip continues his law practice with the firm of Rogers Towers, PA in Jacksonville, Florida. He is a Fellow of the American College of Trial Lawyers and past President of the Jacksonville Bar Association. Chris and his wife, Sally, have four grown kids and live in Jacksonville Beach. For more information, please visit https://www.chrishazelip.com/.
###
Review Copies & Interview Requests:
LAVIDGE – Phoenix
Courtney Coombes
480-998-2600 x 612
ccoombes(at)lavidge(dot)com
General Inquiries:
LAVIDGE – Phoenix
Amanda Eisen
480-998-2600 x 540
aeisen(at)lavidge(dot)com