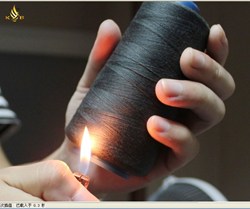 Ningbo,China (PRWEB) June 06, 2017
Kingbird, the leading manufacturer and supplier of high performance threads and yarns, today announced a series of fireproof threads that use a fire retardant meta-aramid fiber. The thread is an excellent heat and flame resistant with self-extinguishing properties suitable for many commercial applications such as making fabrics, bags, garments and embroidering logos, among other functions.
"Kingbird fireproof thread is based on years of research where we blend the available technological advancements and our patented innovations to improve performance and reliability of our products," said Jessica Lee, Kingbird's Product Manager. "With a range of colors, smooth to touch options and unmatched strength, we believe these threads meet specific needs in the industry."
This fire retardant fireproof thread uses an advanced fire retardant meta-aramid fiber. Compared to other materials, it is about 2.5 times stronger that nylon and polyester materials.
Features of Fireproof Threads
Many colors available: Kingbird fireproof thread is available in over 11 different colors. Clients can choose standard colors of order for customized options.
These include both fire retardant sewing and embroidery threads.
Highly resistant to temperature: This fireproof thread does not melt and it chars at 600F while it begins to decompose at 700F. This makes it suitable for a range of industrial applications.
Even at high temperature, the Kingbird fireproof thread will still withstand high tensile stress. They are popular for the low thermal shrinkage property.
Resistant to abrasion and chemical degradation: The thread will maintain all its physical and chemical properties irrespective of the hostile environmental conditions.
Kingbird has adopted unique and modern manufacturing technique to produce a semi crystalline fiber. With the molecular chain partially oriented along the axis of this fireproof fiber, users can benefit from unmatched strength, chemical and physical properties.
The tenacity of most Kingbird fireproof threads is about 5.6g/den. This is only compared to mid-tenacity polyester hence a thread one can count on in many homes and industrial applications.
Applications of Kingbird Fireproof Thread
Due to the excellent fire retardant properties, Kingbird fireproof threads are suitable for the following key applications: Fire retardant fabric, fireproof mat, electrical insulation, protective clothing for fire fighters, military personnel accessories, automotive heat shields, auto racing accessories and embroidering logos or names on fire retardant garments.
About Kingbird
For over 15 years, Kingbird has expanded to be an internationally recognized manufacturing force for yarns and threads. Kingbird uses the finest raw materials imported from Vietnam, Turkey and Korea.
With a dedicated and motivated team headed by Mr. Lino, Kingbird manufactures and supplies over 17 different types of yarns and threads that conform to the ATC, Okey 100, ISO 9001 and SGS standards.
For more information:
Contact Person: Jessica Lee
Email: thread(at)kingbird-tex.com
Phone: 86-0574-2787-6969
Website: http://www.kingbird-tex.com/functional-yarn/fireproof-threads/