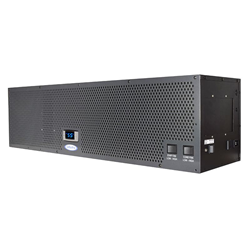 Finally, a wine cooling unit designed specifically for modern glass-enclosed, shallow-depth wine storage cabinets.
Petaluma, CA (PRWEB) June 07, 2017
CellarPro Cooling Systems, a leading manufacturer of specialty refrigeration equipment for wine storage cabinets and custom wine cellars, is raising the bar again. With the introduction of its 1800H Houdini cooling unit, CellarPro now provides a breakthrough solution designed specifically for shallow depth, glass enclosed custom wine cabinets, with extreme cooling power, super-quiet operation, adjustable humidity control and a choice of configurations.
Measuring just 10 high x 10 1/2 deep x 36 1/2 wide (inches), CellarPro's 1800H Houdini is designed to fit inside wine storage cabinets as shallow as 11 inches. Its intake and exhaust airflows are located at the top and bottom surfaces of the cooling unit, allowing the cooling unit to be installed in multiple configurations, including:

inside the cellar,
above the cellar,
inset in the ceiling, or
completely remote from the cellar (with the addition of 6-inch ducting and our custom duct hoods)
CellarPro's 1800H Houdini is loaded with advanced innovations and features, including:
Powerful compressor produces 1864 BTUH at 55F, comparable to CellarPro's best-in-class 1800XTS wine cooling unit
Dual high-output fans produce maximum airflow, allowing the cooling unit to be ducted on the hot side, on the cold side, or on both sides - up to 50 equivalent feet per duct
Independent fan speed controls provide a choice between sound vs performance
Oversized stainless-steel drain pan and 100W heating element mitigate high condensation conditions
Removable power cord can be plugged into the rear or the side of the cooling unit, providing installation flexibility and easy access
Adjustable mounting brackets provide installation flexibility and multiple configurations
3-amp receptacle provides a power outlet inside the cellar
Fresh-air filter enables easy maintenance and upkeep
Compatible with remote digital display and remote thermostat bottle probe (sold separately)
The entire collection of CellarPro wine cooling units and accessories can be viewed at http://www.IWAwine.com. The website also offers buying guides, comparison charts, performance and test data, and a Design Center for custom wine cellars.
+++
About CellarPro Cooling Systems
CellarPro is a leading manufacturer of cooling units for wine storage cabinets and custom wine cellars of all sizes. All of CellarPro's products are manufactured and tested in the USA, and are backed by the best warranty in the industry. For more information, visit http://www.CellarProCoolingSystems.com.
About IWA Wine Accessories
Founded in 1983, IWA is a leading retailer of custom wine cellars, wine storage cabinets, wine dispensers, stemware, wine gifts and accessories. IWA's Design Center has designed thousands of wine cellars for customers around the world. For more information, visit http://www.IWAwine.com.