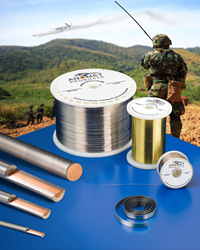 Shrewsbury, MA (PRWEB) June 06, 2017
Anomet Products has introduced new custom precious metal composite clad wire that can be manufactured to OEM requirements for use in fuel cells, batteries, and other military, medical, and commercial electrical storage and power distribution requirements.
Anomet Clad Metal Wire is metallurgically bonded with up to three layers to combine properties such as high conductivity with corrosion resistance or high strength with corrosion resistance and light weight. Suitable for use in high-reliability fuel cells and batteries, a typical application includes titanium-clad-copper for corrosion resistance and high conductivity.
Ideal for fabricating connectors, micro-switches, and bus bars, Anomet Clad Metal Wire can include, platinum, gold, palladium, or silver clad to copper, stainless steel, Kovar®, niobium, nickel-iron, molybdenum, tantalum, and titanium core materials. Offered as wire and rod from 0.002" to 0.125" O.D. and as ribbon to 1" W, they can have 2% or more cladding thickness.
Anomet Clad Metal Wire Products are typically 10X less expensive than solid precious metal products. Price quotations and samples are available.
Anomet Products is well known as the leader in innovative composite metal products. Founded in 1976, Anomet specializes in the manufacture of custom clad metal composites featuring a true metallurgical bond. The company has been dedicated to developing new products using advanced metallurgical technology resulting in long lasting, high reliability, cost effective materials. Given that material costs today represent 90% of the overall cost of products, Anomet specializes in helping reduce costs while improving the material properties and quality.
Producing clad wire, rod, bars, ribbon, and plates, Anomet Products can offer a wide range of metal alloy compositions available with virtually any ratio or thickness. Major industries served include aerospace, automotive, appliance, defense, corrosion protection, electronic, electrochemical, industrial, medical, and oil & gas industries. Each year, Anomet reinvests a considerable amount of its resources in R & D in order to stay on the leading edge in the industries it serves.
For more information contact:
Anomet Products, Inc.
Daniel F. Lambert, Technical Marketing
830 Boston Turnpike
Shrewsbury, MA 01545
(508) 842-3069 FAX (508) 842-0847
e-mail: dlambert [at] anometproducts.com
http://www.anometproducts.com