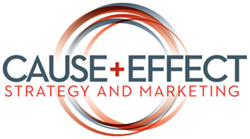 "Sisense was the solution we were looking for because it helps us create a data-driven story that we can share with our clients." - John Loury, CEO, CESM
Rochester, NY (PRWEB) June 05, 2017
CAUSE + EFFECT Strategy and Marketing (CESM), a strategic marketing and analytics firm, has leveraged Sisense to provide invaluable marketing insight quickly to its clients. Sisense's business intelligence platform allows CESM to gain greater visibility into its client's business in addition to reducing the development timeline so better marketing decisions can be made promptly.
"To stay ahead of the competition, our clients need in-depth marketing insight and strategy fast," said John Loury, CEO of CESM. "The two greatest assets of Sisense BI is the ability to easily unify unique data sets and the speed of obtaining insight from them once they have been combined."
When CESM was started, they recognized a need for more in-depth strategic marketing and analytics focused specifically on marketing return on investment. The question was what was the best way to provide that information? The founders knew spreadsheets full of static information that took long periods of time to pull together were not going to provide the customer service or marketing insight they strive to give their clients. What may have looked like several disparate client data sources actually possessed a great deal of insight if the data was manipulated strategically and combined with other business metrics. CESM's goal was to dig deeper into the data to create actionable strategies that affect their client's bottom lines. Furthermore, because CESM utilizes an audience centered approach by leveraging advanced segmentation and life cycle marketing principles through time analysis, seasonality and channel response analysis, they knew there were even more insights that could be discovered if they had the right tool. Using only spreadsheets, they could report, for example, "in 2015, your renewal rate was 60%." Looking at the data in grid form didn't allow them to dig further without adding several hours of development time. They needed to find a more effective solution.
Once introduced to Sisense, CESM has been able to develop interactive dashboards that make it simple to unify and analyze data across departments or even sub-organizations within a parent company. They can create an easy-to-use 3D view of the data that can be used both by CESM and their clients to create data-driven marketing strategies. What would have taken at least a week to put together for a new client, can now be done in a more concise manner. CESM's clients are also happy because their information isn't locked away with a single person, but can be easily accessible to the people that need to view it internally when they want. Requests that could take days and were static with no ability to dig deeper into the data are now, with a few clicks, actionable in determining what decisions should be next.
"Sisense was the solution we were looking for because it helps us create a data-driven story that we can share with our clients."
Both John Loury and V.P. of Business Development, Michael Sutton, will be sharing their integration story at Sisense Connect, happening June 6, 2017 in New York City.
About Cause + Effect Strategy and Marketing
Headquartered in Rochester, N.Y., Cause + Effect Strategy and Marketing provides strategic marketing and analytics that leverages proven marketing principles with in-depth data insight to increase retention and growth for clients. Their customers cover the higher education, fundraising and advancement, financial services, and retail industries. For more information, visit https://causeandeffectstrategy.com/.
About Sisense
Sisense simplifies business analytics for complex data, for business users. Powered by its unique In-Chip™ and Single Stack™ technologies – Sisense delivers unmatched time to value, agility and performance, eliminating much of the costly data preparation traditionally needed with business analytics tools. Using a hybrid cloud model, Sisense provides a single, complete tool to analyze and visualize large, disparate data sets without IT resources. Thousands of organizations ranging from innovative startups to global brands like GE, Wix, Nasdaq and Philips rely upon Sisense for fast, accurate business insights. Sisense was recently included in Forbes' list of the 25 Next Billion Dollar Startups, was ranked a "Visionary" in Gartner's Magic Quadrant for BI and Analytics Platforms, included in Deloitte's Regional Tech Fast 50 list, and ranked one of the 50 highest-rated private cloud companies to work for by Glassdoor.