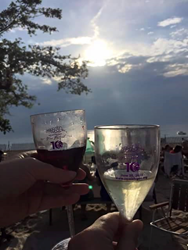 It's an entertaining event with a wonderful group of people having fun in the sun
Bridgman, MI (PRWEB) June 11, 2017
Pier 33 is again a sponsor of the Lake Michigan Shore Wine Festival, continuing a successful and entertaining partnership since 2014. This one-day festival is held at Weko Beach in Bridgman Michigan and features over twenty wineries from the Lake Michigan Shore Wine Trail, providing wine tasting for visitors attending from Michigan, Indiana, Illinois and beyond.
The venue and crowd is ideal for a summertime promotion for Pier 33. "What better place to show off our boats than alongside a beautiful Lake Michigan beachfront, with an upscale crowd, live music and great wines from throughout Southwest Michigan," said Pier 33 General Manager Tighe Curran "It's an entertaining event with a wonderful group of people having fun in the sun."
2017 will be the 12th anniversary of the Lake Michigan Shore Wine Festival. Thousands of guests from all over the Midwest will visit to enjoy a beautiful summer solstice with countless award-winning Michigan wines, fantastic live entertainment, dazzling beach views and much more. The much-anticipated annual event commemorates Southwest Michigan's award-winning wineries, incredible shorelines and charming resort towns.
This annual event is presented by The Greater Bridgman Area Chamber of Commerce and Growth Alliance, the Lake Michigan Shore Wine Trail (in its 15th year!) and Traffic PR & Marketing.
This year's festival will feature live music beginning at 1pm and continuing through 10pm, five bands in all. "Look for our display with new boats from Chaparral and Robalo, right near the stage," said Curran "and visit to sign up for boating demonstrations that will be held later this summer."
More information regarding the Lake Michigan Shore Wine Festival can be found through Pier 33's website.
Pier 33 is a full-service marina located in St. Joseph, Michigan, providing new and used boat sales to boaters from a wide region including Michigan, Illinois and Indiana. Pier 33's facilities include 200 docks, complete boat repair and maintenance services, yacht brokerage service and more. Pier 33 is a dealer for new boats from Robalo and Chaparral.