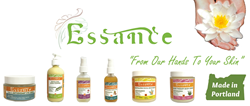 With Essance, we intend to show women [and men] that natural beauty is healthy, beautiful, smart, and sexy.
Portland, OR (PRWEB) June 06, 2017
The beauty industry was revitalized by the all-natural line, Essance Skincare in 2011. Their reach has made them a household name in Portland, Oregon and a staple in spas and beauty establishments across the country. Now that Essance Skincare can be found on Amazon, this huge online presence allow customers from all over the world to bring the spa home.
"With Essance, we intend to show women [and men] that natural beauty is healthy, beautiful, smart, and sexy," Jasmine Tran said when asked why she started the line. Her past experience with major beauty companies gave her insight into the industry. The influence of her mother and grandmother pushed her to become an entrepreneur. While growing up in Vietnam, Tran was surrounded by the herbs that are infused into her products today. She believes all healing begins with what is put into the body and onto the skin. "Food is medicine" is her motto. This belief has led Tran to the top of the beauty market in Portland, Oregon and now to the world's largest online retailer, Amazon.
Essance Skincare offers an alternative to the synthetic products that saturate Amazon and many other retailer websites. It is their "quality over quantity" attitude that makes this company unique. Essance Skincare forms each product by hand, in small batches, to ensure freshness. Essance's interest is preserving the life and elasticity of the skin. To get a freshly made batch of TLC, visit their store on Amazon.
About: Essance Skincare prides itself in creating products that will best serve its consumer's daily life. Unlike their competitors, they provide products that nourish the skin as well as mineral makeup that enhances beauty without harming it. Jasmine Tran created Essance Skincare after working in the laboratories of major beauty companies and learning of the harsh methods used to create high-end beauty products. She decided to use her knowledge and platform to teach women how to take care of their skin by introducing a product line which is best suited for long-term, healthy skin.