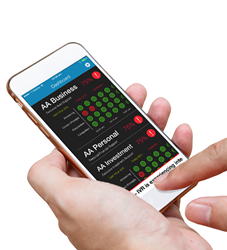 London, United Kingdom (PRWEB UK) 6 June 2017
Cyara, the market-leading provider of an omnichannel CX agility platform, today announced the new Cyara Mobile App, which allows organisations to monitor their customer experience and triage production-impacting incidents anytime, anywhere.
Cyara Mobile App gives up-to-the-minute status reports on customer experience, enabling organisations to make operational decisions and drill down to the source of an issue while on the go. The mobile-optimised Executive Dashboard display can be customised for each unique user, so business and technical stakeholders can filter the display for the CX metrics that are most relevant to them, and configure push notification alerts accordingly.
Built on the most easy to use and intuitive CX testing and monitoring product on the market — the Cyara Platform — the Cyara Mobile App also provides the ability to look at CX failures and delays in detail and even listen to calls to hear what went wrong.
A ticker feature built into the App improves team communication and drives faster incident response and resolution by showing relevant messages to stakeholders across the business.
Cyara Mobile App is the newest addition to the Cyara Platform product portfolio, and can be configured to monitor other vendors' systems through REST API calls.
"This is a real game-changer for organisations looking to accelerate innovation and deliver trusted CX because it allows them to identify issues immediately so they can get to work on resolving them," said Alok Kulkarni, CEO Cyara.
"In the CX space, velocity is key and the more time a customer spends being frustrated by poor audio quality or an unresponsive web chat client, the more likely they are to take their business somewhere else. And the longer you as an organisation don't know that there are CX issues, the bigger the impact on your customer experience," he said. "Having centralised and visualised information about those issues in a highly customisable, responsive mobile format is what makes the Cyara Mobile App a very powerful tool for monitoring, communication and teamwork."
The App will be shown at CX17 Brussels, 7-9 June, where Cyara is a sponsor. Visit Cyara's booth in the Partner Pavilion to learn more about the Mobile App.