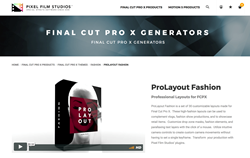 ProLayout is a new product line brought to you from Pixel Film Studios
Aliso Viejo, CA (PRWEB) June 05, 2017
ProLayout Fashion is a set of 30 customizable layouts made for Final Cut Pro X. These high-fashion layouts can be used to complement vlogs, fashion show productions, and to showcase retail items. Customize drop zone masks, fashion elements, and parallaxing text layers with the click of a mouse. Utilize intuitive camera controls to create custom camera movements without having to set a single keyframe. Transform your production with Pixel Film Studios' plugins.
Editors can utilize ProLayout Fashion to showcase glamorous models, clothing, and high-end items. Customize the color of edgy accents, scales of drop zone masks, and alter the text style with intuitive controls in Final Cut Pro. Instantly transform the look and feel of a video with fashionable scenes that can be created with incredible ease.
ProLayout Fashion features an intuitive 3-point framing camera system that allows video editors to instantly create custom camera movements. Using this system is simple. Move the playhead to the first frame of the layout generator. Alter the position and rotation of the start camera controls. Next, go to the last frame of the generator and alter the end camera controls. Lastly, use the mid-camera controls offset the camera's path.
Each template in ProLayout Fashion contains an Environment Control section with a unique set of controls. All 30 templates include reflections that users can alter by adjusting a series of sliders. Individual templates include unique elements like bars, shapes, and patterns that can be edited by using a series of controls. Create amazing and unique scenes within seconds.
Each unique preset includes numerous layers of text that can be fully controlled within Final Cut Pro X. Alter the positional orientation and rotational angles of multiple layers of text to create a parallax effect. To change the style of the font, simply double click on the text to access Final Cut Pro's title controls in the top-right section of the workspace.
Established in 2006, Aliso Viejo, California-based Pixel Film Studios is an innovative developer of visual effects tools for the post-production and broadcast community. Their products are integrated with popular non-linear editing and compositing products from Apple FCPX. Apple, the Apple logo, Mac OS X, and Macintosh are registered trademarks of Apple Inc. in the U.S. and/or other countries. All other trademarks and trade names are the property of their respective owners.