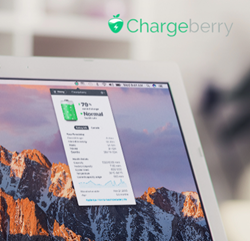 We strongly believe that following the "40-80%" rule will improve the performance of a battery and prevent it from losing its efficiency
(PRWEB) June 07, 2017
Kromtech Alliance corp. is launching Chargeberry app for Mac OS. The application is designed to display relevant battery information and provide users with recommendations on how to prolong the battery life.
Chargeberry allows the user to manage charging cycles, monitor the condition of MacBook battery, and check the charging history. The app also sends notifications about when it's better to plug in the charging cable.
According to the research by Battery University, an optimal charge level for the battery in terms of its lifecycle is between 40 and 80 percent. Therefore, the user can prolong MacBook battery life by keeping its charge cycle between 40% and 80%. Chargeberry is designed by following this rule and notifies its users when charging is recommended.
"We at Chargeberry ran a dozen of internal tests that let us give users proper details about battery health, such as used cycles, capacity, and time until full discharge, depending on usage. We have also added an extra feature that gives tips on battery life optimization. We strongly believe that following the "40-80%" rule will improve the performance of a battery and prevent it from losing its efficiency." says Dmytro Zhuk, Chargeberry Product Manager.
Key Features of Chargeberry:
Health Details:
Running this app may be useful to determine when you should purchase a new battery. Laptop batteries go through a limited amount of charge cycles from 300 to 1,000 depending on production year of the model. Chargeberry shows the current amount of used cycles in comparison with the total amount. The user can also see battery capacity, temperature, manufacture date, and age.
Time Remaining:
This feature shows how long your computer will run on the remaining battery charge with different activity, such as listening to music, browsing, watching movies, or simply standing by.
Charging History:
Chargeberry also includes the history of all charges. This tool lets the user monitor the changes of battery capacity and charging cycles. It also shows top energy-consuming apps. The Power History section gives information on how long a MacBook stays on battery or charging, which can be seen by a single day, month, or even year.
Download from the App Store >
About Kromtech
Kromtech is a leading International Software Development Company that creates highly-rated software services to simplify digital lives of people all around the world.
To learn more about Chargeberry, go to chargeberry.com >
Contact us at pr(at)kromtech(dot)com