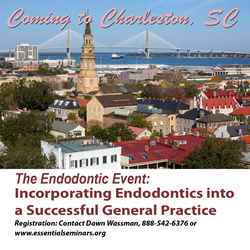 Charleston,SC (PRWEB) June 07, 2017
On June 15th Essential Seminars will be hosting another event in their lecturer series. Teaching local dentists how to successfully incorporate Endodontics into their general practices.
Some root canal procedures fail due to missed canals, short treatment due to ledges, complex anatomy, lack of experience, or dreaded instrument separation. This Power Point lecture and Hands-On Demonstration is designed for general dentists who are interested in advancing their practice by incorporating the latest techniques available in Endodontics and learning how to steer clear of Endodontic shortcomings.
See what can go wrong and discuss ways to create successful Endodontics on a consistent basis.
The seminar lecturer will be Dr. Gordon Ferguson a practicing clinician in the Charleston area who has been lecturing on various dental topics for over 15 years and also member of the Charleston Dental Society. This lecture will give attendees the opportunity to network with other dentists in the area and also earn those much needed CE Credits.
To register and get full course details please go to http://essentialseminars.org/2017events/event-june17-ferguson.html