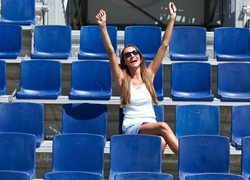 Gulfport, Mississipi (PRWEB) June 07, 2017
The Sports Fan Association announces the launch of eSportsDate.com, a dating and social network for singles who love sports. According to the USA Sports Fan Association there are over 124.6 million single adults in the USA and 62% of those are sports enthusiasts, a total of over 78 million single sports fans in the USA alone. eSportsDate.com is designed to bring together these single sports enthusiasts with other sports minded singles who love sports as much as they do.
The site boasts all the convenient features one expects from a dating and social network site, along with added services tailored to the sports enthusiast. Users can create a profile on eSportsDate.com, upload several photos and add basic details about themselves and their favorite sports and sports activities. Members can create an informative personal essay that describes their dating and sports companion needs and goals, topped off with an attention-grabbing headline. The search function allows members to sort other sports enthusiasts, singles and groups by location, age, sports interest and other preferences, narrowing the results down to a manageable number. Members can then show interest in another member or group with a single click.
Members can not only search and meet other sports enthusiasts to date but they can network with new sports friends for weekend sports events, sports activities, as well as domestic and international sports event travel, and even find other groups to share your sports adventures. With eSportsDate.com, you will never have to watch or participate in sports alone again.
eSportsDate.com offers all the tools and features needed to help members plan their sports date. Members are provided access and discounts to our full-service sports event ticket service and team merchandise along with national and international sports event trip reservation service.
To help members get the most out of their experience, the site publishes monthly sports event specials with discount sports event tickets. Each issue of the digital newsletter is full of practical information about relationships and sports events and activities. The newsletter also contains helpful tips about online sports dating and social networking in general, a benefit to those new to the experience and uncertain how to proceed.
The Sports Fan Association is launching eSportsDate.com in the USA, Canada, Australia and the UK , followed soon by an international roll out.
eSportsDate.com is owned by the Sports Fan Association, a niche dating and social network website. For more information email info(at)eSportsDate(dot)com.