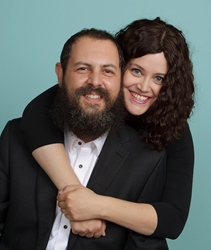 We just have a crazy love for animals and we're looking forward to translating that into our work with Pet Wants.
Henderson, NV (PRWEB) June 05, 2017
After sharing his home with 20 animals over the last 18 years, Shawn Aberman knows a few things about caring for pets. Now he's pleased to announce that he'll be positively impacting even more animals with his new pet food business, Pet Wants Henderson.
Pet Wants' carefully developed proprietary pet food is slow-cooked in small batches with fresh, high-quality ingredients once per month, so every kibble is guaranteed to be fresh and packed with nutrition. Pet Wants Henderson offers free, personal delivery to all of Henderson as well as South Central Las Vegas.
"In most cases, our animals spend their entire lives with us and it's our responsibility to make sure they are healthy and cared for. I've fed my animals cheap food when money was tight – I get it – but feeding them high-quality food really makes a difference. The right nutrition can help animals live longer, healthier lives," Shawn said.
In addition to being made fresh monthly, Pet Wants only sources the best salmon, chicken, lamb, brown rice and other ingredients available. There's no sugar added, no fillers and no animal by-products and Pet Wants never uses corn, wheat, soy or dyes, which makes the food great for animals with allergies. Pet Wants Henderson – which offers multiple blends of dog food and cat food – also offers healing salve, calming balm, anti-itch spray, paw wax and more.
Prior to opening Pet Wants Henderson, Shawn spent 15 years as a banker, five years in the restaurant business and a few years in retail before that. The idea to launch Pet Wants Henderson started when Shawn left two part-time positions (kosher supervisor and assistant at a religious school) to help a friend launch a franchise.
"That start-up opportunity didn't work out as a full-time job and we are Sabbath observant and there weren't many opportunities in this 24/7 town that fit my skill set and enabled me to be off on Saturdays. That's when I started looking for a new opportunity and came across Pet Wants. We eat Kosher and are very careful about what we put in our bodies, so why shouldn't we feel the same way about our pets? In the Bible, it says that if you have animals, you have to care for them first. They depend on you. That's directly in line with what we do at Pet Wants," Aberman said.
Shawn opened Pet Wants Henderson with the support of his wife Selima and their four –soon to be five – children. Selima, who is a GI Nurse and understands how the food we eat impacts our overall health, is excited to be part of the Pet Wants family. The Aberman family has a 6-year-old Shepard Shar Pei mix named Kelev, a one-year-old Saint Bernard mix named Leo, five Russian Blue cat mixes (Rose, Thorn, Spike, Gizmo and Zion), and a 17-year-old Green Wing Macaw named Valcore.
"I love pets – Selima and I both grew up with animals and, I think, in the 18 years we've been together, we've had 20 pets. We just have a crazy love for animals and we're looking forward to translating that into our work with Pet Wants," Shawn said. "Also, Selima is a GI Nurse and, although she works with humans, she really understands how nutrition and food impacts digestion and overall health. She's looking forward to being part of Pet Wants too."
Pet Wants originally launched in Cincinnati in 2010. Owned by Michele Hobbs, the business was built to provide proprietary crafted, fresh, slow-cooked, high-quality pet food delivered to customers through a retail store and a convenient home-delivery service. Hobbs, now the company founder, turned the business into a franchise in 2015 with the help of Franchise Funding Group, an investment and franchise-development company designed to help entrepreneurs scale their companies nationally as franchise systems.
To learn more about Pet Wants or to get a free pet food sample, call 702-260-1011, email SAberman(at)PetWants.com or visit http://www.PetWantsHenderson.com.
About Pet Wants: Pet Wants was started by Michele Hobbs out of love for her pets and frustration. Veterinarians were unable to help relieve her dog's painful skin allergies. After doing much research, Michele discovered the national dog food brand she trusted was not fresh and lacked sufficient nutrition and, when pet food sits in warehouses and store shelves for months and months, it loses even more nutritional value. She was committed to developing a better solution for all dogs and cats. Pet Wants food is exclusively crafted – fresh, healthy, and slow-cooked with no sugar added, no fillers, and no animal by-products. Pet Wants sources only the best salmon, chicken, lamb, brown rice, and other ingredients. Fresh ingredients make for better food, which translates into better health for pets. And, since Pet Wants never use corn, wheat, soy or dyes, the common pet health problems associated with these ingredients are no longer worries. Pet Wants fresh food is conveniently delivered to the customer within weeks of production, not months. Roughly half of Pet Wants products are sold through their store and half through their convenient, home-delivery program. You can learn more at http://www.PetWants.com.