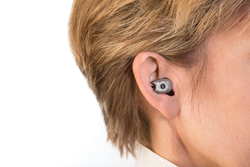 Eden Prairie, Minnesota (PRWEB) June 07, 2017
With the average hearing aid costing $3,000 for just one ear, those with hearing loss often suffer in silence, unaware of the many affordable personal sound amplification products (PSAPs) available at a fraction of the cost. To increase awareness and help people hear better, Harris Communications has published a new brochure highlighting its wide range of PSAPs.
Personal sound amplifiers help those with hearing loss hear better in a variety of settings, including loud restaurants, around the dinner table, at the doctor or pharmacist, in the car and at worship. They can even amplify music and the TV.
Harris Communications offers a wide selection of personal amplifiers, including models that can be worn in the ear, clipped to a lapel, worn in a pocket, or set on a table. Ranging in price from $139 to $399, personal amplifiers can be used with headphones or earbuds, or with a neckloop to supplement t-coil equipped hearing aids. Many personal amplifiers also have a built-in t-coil that can receive signals in looped environments.
Celebrating 35 years of helping the hard of hearing and deaf live life to its fullest, Harris Communications provides more than 2,000 solutions for all levels of hearing loss. Learn more at http://www.harriscomm.com, or call 952-388-2152 (video phone) or 877-539-7445 (voice) to speak with a hearing loss expert and request a free brochure.
A digital copy of the brochure is available at http://online.flipbuilder.com/wuzc/vrxa/.
About Harris Communications, Inc.
Based in Eden Prairie, Minnesota, Harris Communications, Inc. is a leading supplier of hearing loss solutions for people with all levels of hearing loss. Since its founding in 1982 by Dr. Robert Harris, himself a member of the Deaf community, Harris Communications has helped millions of Deaf and hard of hearing customers enjoy their lives to the fullest by providing expert advice and a wide range of more than 2,000 assistive devices and educational resources. The company's product line includes alerting devices, phone and TV amplifiers, personal amplification systems, tinnitus maskers, books and media and much more. Harris Communications also supplies ADA compliance products and hearing protection equipment.