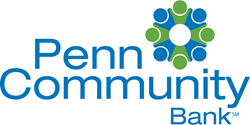 DOYLESTOWN, Pa. (PRWEB) June 06, 2017
Penn Community Bank is excited to announce that it is bringing its full suite of financial services and its community-minded banking philosophy to Montgomery County with a proposed merger with Abington-based Chelten Hills Savings Bank.
Chelten Hills had been looking for a community bank with which it could partner in order to offer its longtime customers expanded financial services and convenience.
"Our customers' financial needs have evolved a great deal since our original founding in 1910," said W. Russell Koerwer, President and CEO of Chelten Hills Savings Bank. "Our customers today want all the convenience of modern banking services, with the personal touch that only a community bank can provide. We found the best of both in Penn Community Bank."
"We are excited to bring our full range of financial products and friendly service to the Abington area," said Jeane M. Coyle, President and CEO of Penn Community Bank. "At Penn Community Bank, we focus on developing long-lasting relationships with our customers; we look forward to being a trusted partner and financial resource for our new neighbors in Montgomery County for many years to come."
Chelten Hills Savings Bank operates from one location in Abington, Pennsylvania. Penn Community Bank, which has an established network of branches throughout Bucks County, is committed to remaining in Montgomery County and is actively negotiating to enter into a lease for a new branch location that will continue to serve the Chelten Hills customers.
Chelten Hills is an FDIC-insured, Pennsylvania chartered mutual savings bank, so its merger with Penn Community Bank is a joining of two mutual organizations.
Penn Community Bank's board of directors and Chelten Hills' board of trustees actively support the merger and aim to complete the transaction by the end of 2017, subject to regulatory approval. An advisory board comprised of representatives from both organizations will be formed to oversee the transition.
Chelten Hills has two full-time employees, and both will be offered positions with Penn Community Bank. Koerwer, the president and CEO, is planning to retire once the two organizations are joined together, but will continue to serve on the advisory board. An active member of the Abington-area community, Koerwer currently serves as president of the board of directors of Eastern Montgomery County Chamber of Commerce and is a 47-year member and past president of Jenkintown Kiwanis Club. He also has served as a director of the Pennsylvania Association of Community Bankers.
If the merger of the two institutions is approved by federal and state regulators, the new branch in Montgomery County would bring the number of retail locations to 24 for Penn Community Bank, which offers banking, lending, insurance and investments in Bucks County and the surrounding areas.
About Penn Community: Penn Community Bank holds more than $1.9 billion in assets, employs more than 300 people, and offers banking, lending, insurance and investments at 23 bank branches and two administrative centers throughout Bucks County, Pennsylvania. As an independent, mutual financial institution, Penn Community Bank is not publicly traded and operates with its long-term mission in mind: to help businesses grow and prosper, to provide financial resources to individuals and families throughout their lifetimes, to strengthen the local economy, and to partner with local organizations to act as a catalyst for positive growth in every market it serves.
# # #