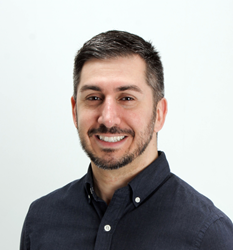 New York, NY (PRWEB) June 06, 2017
Bendheim, one of the world's leading sources of specialty glass, welcomes Kami Panbechi as an Account Manager for its Architectural Flat Glass division. Panbechi will help create and advance relationships with building and design professionals throughout the New Jersey, Delaware, Eastern Pennsylvania, Connecticut, and Long Island territories.
Kami Panbechi brings 5 years of specialty glass experience to Bendheim. His architectural glass journey began at a specialty glass fabricator in California, where he learned various fabrication techniques, before transitioning into a sales role. His knowledge of glass products, budgets, and timelines, has made him a valuable resource to both specifiers and the glazing community.
"Kami's appointment is part of our commitment to providing building professionals with unprecedented knowledge and expertise," says Donald Jayson, Bendheim's Co-Owner and Senior Vice President. "Kami is extremely client focused and has a strong work ethic. I am confident he will play an integral role in cultivating long-term relationships within the design and construction industries."
Panbechi will be managing the New Jersey territory, home to Bendheim's corporate headquarters. He plans to take advantage of his proximity to the production facilities to educate clients about glass manufacturing through plant tours and presentations.
Panbechi holds a Bachelor's Degree in Graphic Design from St. Thomas Aquinas College, and has a diverse market experience, having worked on both U.S. coasts.
As a valuable partner, Bendheim's team brings decades of specialty architectural glass experience to building and design professionals throughout the design process, from concept to completion. To learn more about Bendheim decorative architectural glass, please visit http://www.bendheim.com.
About Bendheim:
Bendheim is one of the foremost resources for specialty architectural glass. Founded in New York City in 1927, the fourth-generation, family-owned company offers more than 2,000 architectural glass types in stock and unlimited custom design solutions.
Bendheim develops, imports, and distributes its products worldwide. The company maintains production facilities in New Jersey and an extensive showroom in Tribeca, New York City. For additional information, please visit Bendheim.com.