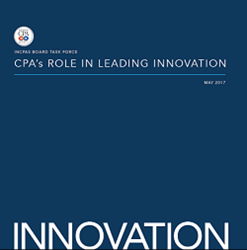 Indianapolis, IN (PRWEB) June 05, 2017
CPAs in both industry and public accounting have the ability to be significant contributors in innovation due to their skills and understanding of business, states the key finding from the Indiana CPA Society (INCPAS) Innovation White Paper, released today.
INCPAS created a task force to look at innovation and its impact on CPAs and INCPAS. It examined innovation through research, surveys and in-depth discussions with companies from around Indiana who shared examples of innovation they have seen both in and around the profession. Their research resulted in this Innovation White Paper.
According to a recent poll of INCPAS members, 84% report innovation is important in their role. Further, 50% cited INCPAS as a source for innovation and look to INCPAS to provide information and collaboration on related topics.
The task force found INCPAS and other CPA Societies can fill a number of roles related to innovation:

Convener: Bringing members with common needs or knowledge gaps together.
Facilitator: Providing educational opportunities.
Informer: Sharing news about innovation and trending issues.
Provocateur: Challenging members to not settle for the status quo.
Leader: Setting examples in emerging areas such as integrated reporting.
As trusted business advisors and cross-department collaborators, CPAs have a unique ability to play a key role in innovation for their firms or organizations. This white paper offers meaningful solutions that can help with innovation such as education, training, collaboration and idea sharing.
VIDEO: Hear from task force chair Tom Wadelton, CPA, CGMA.
###
About the Indiana CPA Society
Nearly 8,100 CPAs in public practice, business and industry, government and education are members of the Indiana CPA Society. INCPAS is the most trusted business resource and advocate in Indiana. Its members are required to abide by the CPA profession's code of conduct. INCPAS members also receive access to quality educational programs and peer networking for knowledge sharing. Society members are trusted advisors to Indiana's business community. INCPAS celebrated its 100th anniversary in 2015. For more information, visit incpas.org.