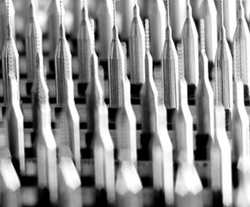 One Company – Total Cutting Tool Solution
North Haven, CT (PRWEB) June 08, 2017
Carbide Related Technologies, Inc. has officially launched their new website introducing a new product line. CRT now offers a range of lubrications used for milling, scoring and stainless steel applications. Along with the nearly residue free solutions CRT also introduces misting units ranging from 2.5 liters to 10 liters as well as all accessories needed to accompany each unit.
Priding itself on being "One Company – Total Cutting Tool Solutions," since 1987. Carbide Related Technologies (CRT) formally known as Cutting Related Technology is an excellent source for both the PCB and non-PCB industries including, but not limited to, the dental and green ceramics industries.
CRT provides quality products including a full range of carbide cutting tools such as drills, end mills, routers, countersinks and made-to-order specialty tools. They also offer quick turn – quality repointing services to provide cost effective solutions. In addition to common carbide tools CRT represents GCT's diamond coated tools which offer longer tool life, improved capabilities as well as new machining possibilities making them a highly sought after tool. Drills, end mills (both single and two fluted), thread mills, countersinks and more are all available diamond coated.
LENZ of Germany is also represented by CRT. LENZ is a premiere manufacturer of CNC machines including scoring and routing machines. To accompany the CNC machines CRT also provides technical support as well as machine parts. CRT's knowledge however isn't only limited to LENZ machines. If you have a problem, they have a solution.
To accompany CNC machines CRT provides milling, scoring, stainless steel and plastic solution (95%-100% residue free) along with state of the art misting units ranging from 2.5 liters to 10 liters which can accommodate up to six spray heads. Manufactured by HPM Technologies these units, accompanied by the solution, prove to be a great add-on.
For all your cutting tool needs, Carbide Related Technologies is the go-to company for quality service and support.
About Carbide Related Technologies, Inc.
Based in North Haven, CT, Carbide Related Technologies, Inc. provides a wide range of cutting tool solutions for all of your cutting tool needs.
Customers are the core of their business and they supply their customers with quality products and services. Their promise is to utilize the full scope of their internal resources, and those of their associates, to help their customers be successful.