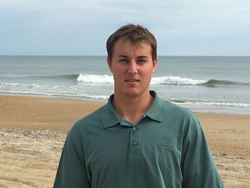 Kill Devil Hills, NC (PRWEB) June 09, 2017
Coldwell Banker Seaside Realty announced today that Shane Kichline, who is newly affiliated with its Kill Devil Hills office, has completed a seven week instructor led program which introduces best practices and key resources important for a successful career in real estate. Kichline recently completed Launch, a Coldwell Banker University program designed exclusively for sales associates newly affiliated with the Coldwell Banker brand. The live, instructor led online program provided Kichline with best practices, tips, and insights on building his business plan, working effectively with clients and planning for contingencies and challenges in his business.
Along with the training provided by Coldwell Banker University, Kichline simultaneously engaged in the Coldwell Banker Seaside Realty mentor training program with other newly affiliated agents. Led by Vice President of Sales and Relocation, Pamela Smith, this in-house, group training provided local insights and current market activity to provide a comprehensive education preparing Kichline to begin his career with a solid background of knowledge and skills.
"I am impressed with Shane's commitment to his training. This is usually an indication of the agents success going forward. Shane is on the right track!" says Pamela Smith, Vice President of Sales and Relocation.
"The Coldwell Banker University course gave me a variety of tools to help me start my career. I am excited to use these skills I've aquired from the Launch course and Seaside's Mentor classes to build my business," says Shane Kichline.
Coldwell Banker Seaside Realty is a consistent top producing firm with over 25 years of local knowledge and experience. Family owned and operated, the company offers real estate services across the entire Outer Banks as well as all of northeastern North Carolina. Combined with the Coldwell Banker brand, one of the largest and most influential residential real estate brokerage franchises in the world, Seaside Realty offers top-tier real estate services to buyers and sellers throughout the region.