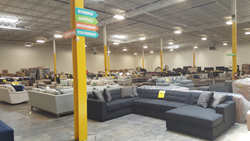 Columbus, OH (PRWEB) June 06, 2017
The Find Furniture Warehouse open the doors to its exciting new retail concept on Friday, May 26. Set in a 40,000-square-foot industrial warehouse, the store will feature mid- to high-end furniture from the industry's top brands—all at remarkable savings, up to 75% off retail pricing. Located at 3635 Zane Trace Drive, at the intersection of Zane Trace Drive and Roberts Road, just east of I-270, the new warehouse store will only be open to the public Friday through Sunday and four national holiday Mondays a year.
The store plans to hire approximately 14 people.
"We're so excited to bring this concept to the Midwest, and thrilled to be back in Columbus," said Amy Kandel, who owns the new business with her husband Steven Kandel. The husband-and-wife duo previously owned a similar furniture business in Bakersfield, California, a 50,000-square-foot store they operated successfully for 10 years, before returning to Columbus, Amy's hometown, in July 2016.
According to the Kandels, The Find will carry top-name, high fashion brands, like Flexsteel, Pulaski, Magnussen, Best and EJ Lauren. As in most furniture stores, there will be plenty of merchandise on the floor for customers to touch and feel. But unlike the competitors', most of the furniture at The Find will be visibly racked—and stacked high—to accommodate a much larger-than-typical onsite inventory.
"We're buying deep to get the best prices," Amy Kandel said.
Kandel, a veteran buyer and merchandiser, explains that "buying deep" means purchasing by the container, instead of by the piece, and buying directly from the manufacturer, both domestically and overseas. Those direct-from-manufacturer discounts are significant, and the savings will be passed onto The Find's customers.
"But it's not just about buying in quantity or buying direct," Kandel said. "It's about finding the finds."
"When you have really strong relationships with manufacturers, like we do, you're first in line for great deals on closeouts, one-of-a-kinds, factory sell-outs and overstocks," Kandel continued. "The secret is then picking and choosing, among those opportunities, to achieve the right product mix for the customer base and merchandising it strategically for fast inventory turns."
Selling merchandise quickly also means The Find's inventory will be replenished regularly and often. "We'll look like a brand new store every month," said Kandel.
While the new-every-month inventory guarantees the customer fine quality, the shopping environment will remain bare bones. That is the final key to The Find's unique business strategy—maintaining low overhead.
"The Find is located in a basic, no-frills warehouse, in an fairly industrial area of town. We're not paying a lot for rent, fancy showroom displays or expensive advertising," Kandel said. "On top of that, we'll only be open three days a week, which will reduce our operating costs, even further. These are huge savings we're also able to pass onto the customer."
A no-frills shopping environment, however, does not mean lack of service. Kandel assures The Find will have plenty of energetic and helpful salespeople to assist customers, although not to pressure them, and the store will offer delivery and onsite assembly services.
"We want to be a place that wows customers, where they'll come back, time and again, to discover the best finds for their homes," said Kandel.
For more information about The Find or to schedule an interview, please contact Amy Kandel at 415.637.0067. We also invite you to visit trythefind.com.
More About The Find
The Find is a discount furniture warehouse open to the public three days a week—Friday through Sunday—and four holiday Mondays a year. The store offers high quality, top-name merchandise at a fraction of the price, up to 75% off retail. The business is owned by wife and husband Amy and Steven Kandel.
Amy Kandel is a veteran buyer and merchandiser with more than 20 years of experience. Before turning her talents to the furniture industry in 2006, she worked in New York and California for major fashion brands—Levi Strauss & Co., J Crew, The Gap, Inc., Liz Claiborn, Ann Taylor Loft and Macy's. She was born and raised in Columbus, Ohio, and returned to her hometown with her husband in 2016, where both are thrilled to be raising their young children.
Steve Kandel has a MBA from The Ohio State University's Fisher School of Business and a work history in the financial industry. The Find is the second furniture business he has owned with his wife Amy.
For more information, visit trythefind.com