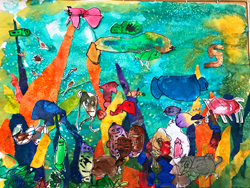 Being able to see the work curated as displays really brings together the multiple studies and showcases how far the curriculum has emerged.
New York, NY (PRWEB) June 06, 2017
The newest budding stars on the New York City art scene are 120 two-to-four year-olds from the Columbus Pre-School on the Upper West Side. On June 2, hundreds of masterpieces were unveiled at the 12th annual student art show. Varying by class, each child's individual and group creations were on display, paying homage to world-renowned artists who were studied over the course of the year.
Depending on the class, different mediums of art and artists were explored including: Wasily Kandinsky, Georgia O'Keeffe, Jack Deloney, Roy Lichtenstein, Antoni Gaudi, Edgar Degas, Jackson Pollock, Andy Goldsworthy, Damien Hirst, Mark Rothko, Ansel Adams, James Audobon and Mel Bochner. The course of study for the preschool-age children was implemented throughout the entire year and was designed as part of the school's overall emergent curriculum; general creative arts; artist-focused studies; and author/nursery rhyme study for the youngest age group.
"During busy times like pick-up and drop-off, the parents might get a glimpse of what's on the walls, but they don't always have the opportunity to read descriptions and take in the depth and breadth of what the children are learning about and absorbing throughout the year," said Julie Kandall, educational director. "While we continuously update our parents on what's going on at school, being able to see the work curated as displays really brings together the multiple studies and showcases how far the curriculum has emerged."
A charitable component of the art show was implemented in recent years via a silent auction. Money raised from students' masterpieces goes to a different charity each year. Some of the past charities include: the Wounded Warrior Project, St. Jude's Children's Hospital, Disability Pride New York City and Hope & Heroes. This year's donation will help The Robin Hood Foundation. "This is just one of the ways we try and educate our students, even at such a young age, about the value of helping others," explained Peggy Gluck, owner of the school and a former preschool teacher. "Our objective at Columbus Pre-School is to help raise children who feel valued and, in turn, become good citizens and good people by recognizing the importance of valuing and empathizing with others."
Columbus Pre-School is located at 606 Columbus Avenue, New York, NY. For additional information, please contact Kiah Gluck at info(at)columbuspre-school.com or call (212) 721-0090.
About Columbus Pre-School
Columbus Pre-School was founded in 1988 by Peggy and Billy Gluck and has a nearly 30-year heritage as a family-owned and operated premier preschool on New York City's Upper West Side. Columbus Pre-School offers a learning environment which nurtures and respects the different gifts and variety in learning styles that each child brings to the classroom community. The focus and philosophy is based on the holistic development of the children, rooted in their own investigations of their environment, and the pursuit of their individual passions. Active, expressive, child-centered learning experiences are emphasized, and brought to life through the emergent curriculum, based on the Reggio Emilia approach. The attached gymnastics studio and instruction and connected outdoor space provide an ideal and safe environment for physical fitness and gross motor skill development critical to the preschool-age child. All teachers have either received their Masters in Education or are in process. Columbus Pre-School is highly-regarded for its exmissions support and offerings and has a longstanding track record of success in New York City private school placement. For more information, please visit http://www.columbuspre-school.com/.