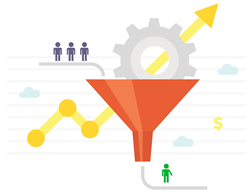 Aspen, Colorado (PRWEB) June 13, 2017
Improved job application performance
Employer branded career sites & job ad campaign landing pages
Corporate career site pages are a preferred choice for candidate job searches & applications. Job boards can now offer fully functional branded mini sites with a custom application process and targeted job campaign landing pages for hard-to-fill positions.
Mobile-ready application process
Job seeker application pages are optimized for all devices: mobile, tablet and desktop.
Better job alerts
Easy to use job alerts subscription is available on both registration and job search pages. Job alert efficiency tracking via new Dashboard.
Indeed easy apply integration
Seamlessly add Indeed applicants' data to your job board. Job seeker can use "Easy apply" on Indeed and job board will obtain the resume.
Better employer service and new offerings.
Wider job seeker reach & targeting applicants.
Job boards can improve job advertising performance by tapping into multiple job advertising networks and utilizing Programmatic bidding in addition to direct posting to aggregators, i.e. Jobs2Careers, ZipRecruiter, Indeed, etc.
Branded career sites, job ad campaigns, ATS access.
Maximise and improve applications for your customers by providing fully featured career sites, custom job landing pages and ATS features via integrated CareerSiteCloud.com platform.
Automated job posting via job wrapping.
Customers' job listings are scraped and posted to job board automatically by white label job wrapping service.
New admin Dashboard for tracking vital performance metrics.
Keep in touch with overall job board and each specific client's advertising KPIs to ensure customer satisfaction and contract renewals.
Additional revenue options.
Obtain pay-per-application revenues and additional jobs content via backfilling and network integrations: Jobg8, Indeed, Jobs2Careers, ZipRecruiter.
About JobMount
JobMount is a niche job board software product of Aspen Technology Labs, Inc., a leading provider of online recruitment solutions, career sites, mobile apply interfaces, and job wrapping services.
Contact
Michael Woodrow
+1 970-920-7830
inquiry(at)jobboardmount(dot)com
http://www.jobboardmount.com