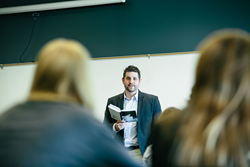 Spring Arbor, Mich. (PRWEB) June 05, 2017
Spring Arbor University (SAU), a nonprofit, faith-based institution, has announced the addition of a Bachelor of Social Work to their online program portfolio. Accredited by the Council on Social Work Education (CSWE), SAU's online BSW emphasizes problem solving, values and ethics.
 
The online BSW allows students from around the globe to complete a 33-credit social work degree 100% online. The program is open to anyone with a high school diploma.
 
The online BSW is designed to encourage close connections among students, faculty and staff. In Introduction to Social Work (SWK281) students will gain faculty mentors who will shepherd them through their upper level courses and fieldwork internship.
By the end of the program, students will be prepared to provide services to individuals, groups, families and organizations.
 
Spring Arbor University's online programs allow students to balance their professional lives with their learning endeavors, as they can log on, attend classes and complete assignments at times that are most convenient for them. For more information, visit online.arbor.edu or call 1.844.621.0900.
 
About Spring Arbor University
Since 1873, Spring Arbor University has helped students pursue wisdom by offering an education grounded in the Christian faith. What began as a small elementary and secondary school in the late 1800's has evolved into a top-tier, liberal arts, Christian university with more than 3,000 enrolled students. Spring Arbor University now offers more than 70 undergraduate majors and programs, degree completion programs, associate programs and graduate programs. With programs presented on campus, online and on site at 12 locations throughout Michigan and Ohio, the university continues to meet the growing needs of its students.
Contact Information
Bethany Landis
517.750.6451
Spring Arbor University
http://online.arbor.edu