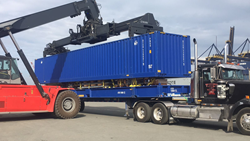 This jewel of an innovation is no small thing. For us transportation nerds this is very cool indeed… I see the container being a hit with some shippers who currently use breakbulk, opentops, and flatracks for shipping.
McLean, VA (PRWEB) June 07, 2017
The Intermodal Operations Committee of the Association of American Railroads (AAR) recently approved CakeBoxx Technologies' newest 53' intermodal container, Model 732, for use on the freight rail networks throughout North America, adding the new CakeBoxx 53' unit to the AAR Approved Equipment list.
This news follows a surge in global interest for CakeBoxx containers to be used in rail operations. CakeBoxx Technologies is currently working with customers in Europe and Asia to provide containers for trans-continental routes and has delivered a number of units to the UK's premier rail operator earlier in 2017.
The CSC-certified 53' CakeBoxx now provides complete end-to-end intermodal interoperability throughout the United States, Canada, Mexico and offshore markets. The Model 732 53' hi-cube container is available in both WTP and ISO configurations and features CakeBoxx Technologies' signature two-piece 'deck and lid' design. This addition to the CakeBoxx portfolio is part of the company's "BreakBulkBoxx" solution line developed to support existing domestic container requirements as well as the emerging break bulk-to-container market. The company projects that AAR certification will further boost domestic sales of these innovative shipping solutions.
Steve Hastings, COO of ATS-International in Jacksonville, Florida described BreakBulkBoxx containers as a "game changer" for the break bulk cargo market because of its ease of loading, ability to carry heavy, large and awkward cargo previously only movable as break bulk.
Click here for BreakBulkBoxx showcase video
Freight industry expert Tom O'Malley, owner of TJO CARGO Insurance, recently added "This jewel of an innovation is no small thing. For us transportation nerds this is very cool indeed… I see the container being a hit with some shippers who currently use breakbulk, opentops, and flatracks for shipping."
CakeBoxx Technologies' CEO Daine Eisold commented, "The introduction of the 53' BreakBulkBoxx into rail operations will open up new opportunities for domestic (and soon international) intermodal freight movements. To further address needs in this market we also recently released our new 53' WTP configured flat rack. Our partner, ATS-International is putting it through its paces now."
CakeBoxx Technologies – Safe, Secure and Efficient Cargo Solutions
CakeBoxx Technologies designs, builds and sells innovative 'two-piece' cargo shipping containers to the global cargo transportation and specialty manufacturing markets. CakeBoxx containers with their deck and lid design, are the first innovation in the industry to offer truly safe, secure and efficient containerized transport for the top-loaded, side-loaded, break bulk and general project cargo markets. Advantages of CakeBoxx containers include increased operational efficiency, reduced risk of cargo theft, and lower operating costs. Using CakeBoxx containers saves money. CakeBoxx Technologies offers these products in a range of sizes and specifications to meet individual customer needs.
http://www.cakeboxx-technologies.com
For more information about CakeBoxx containers please contact Daine Eisold:
daine@cakeboxx-technologies.com
Tel: +1 (703) 869-3336
For media inquiries please contact Stuart Clark:
stuart@cakeboxx-technologies.com
Tel: +44 (0) 7986 686621