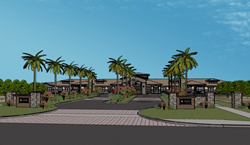 Chandler, Arizona (PRWEB) June 07, 2017
The project, which represents a community investment of over $10,000,000, is expected to bring 100 construction and 50 permanent jobs to the local area. JF Construction Company is estimating a spring 2018 completion date. Upon completion, Parkland Memory Care will be operated by Seasons Management Group, based out of Oregon. Seasons Management, LLC is a leader in senior care, operating senior housing communities across the western United States.
The community has been designed by Lenity Architecture, a leader in senior housing design, based in Oregon, along with landscape architecture provided by Phillip R. Ryan who has completed award winning projects in Chandler. Every detail of the building and site has been designed for the demands and needs of those with Alzheimer's and other forms of dementia. Among the features offered will include high ceilings, large open areas with clerestory windows and skylights. Amenities will include twenty four hour nursing, attractively landscaped grounds, interior courtyards, activity rooms, in-house salon and walking paths. The architecture is Tuscan ranch, with elements of stone, concrete tiled roof, and decorative lighting. The grounds will be extensively landscaped, including two small citrus groves that will be used for activities and gatherings and dramatic date palm lined entries on Appleby and Arizona Avenue.
The community will contain 56 suites, and can accommodate 72 residents. The unit mix will consist of deluxe private suites, private suites and companion apartments. Parkland Memory Care's prominent location at the northwest corner of Arizona Avenue and Appleby Road, across from Hamilton high school will make it one of the premier memory care communities in Chandler and the Phoenix valley.
More information on the project can be obtained at http://www.parklandmemorycare.com or by calling (602) - 499 - 5657.