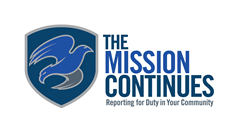 Atlanta, GA (PRWEB) June 06, 2017
More than 100 veterans from around the country will join forces June 8-15 to help energize and transform underserved communities in Atlanta's historic Westside neighborhoods – including Vine City, English Avenue and Castleberry Hill. The veterans are volunteers with The Mission Continues, a national nonprofit organization that empowers veterans who are adjusting to life at home to find purpose through community impact. Through a week-long service marathon, dubbed Operation Westside Surge, veterans will lead the charge with local community partners to beautify community spaces, increase access to urban gardens, and support affordable housing complexes for homeless and low-income individuals.
"Veterans are a powerful force when called upon to serve," said Spencer Kympton, U.S. Army veteran and president of The Mission Continues. "Today, the Westside faces challenges that many veterans encountered in communities around the globe while on active duty. Working alongside community partners who have already begun to make headway against these challenges, our veteran volunteers can be force multipliers: providing the skills, experience and expertise to drive sustainable, positive change in some of Atlanta's most historic neighborhoods."
Atlanta's Westside, where Martin Luther King Jr. resided until his death, has served as an influential catalyst for community action, civil rights and positive change. However, issues including unemployment, blight and depopulation have continued to create obstacles for residents in Atlanta's historic Westside neighborhoods.
The efforts in Atlanta's Westside mark The Mission Continues' second Mass Deployment, an annual event that mobilizes veterans alongside local partners and volunteers for an intensive service engagement in an area facing particularly daunting challenges. Through an untraditional, hands-on approach, Operation Westside Surge aims to build trust within the Westside community to advance the ongoing efforts by residents, nonprofits, civic leaders and the private sector.
"Service doesn't necessarily mean putting on a uniform and going to some faraway land. It starts right here at home," said Hipolito Arriaga III, a U.S. Marine Corps veteran who participated in The Mission Continues' first Mass Deployment in Detroit. "The Mission Continues is different because we are invested. We live in these communities, and we want to see these communities prosper."
Critical to sustaining the momentum of an effort like Operation Westside Surge, the veterans' engagement doesn't end when the week concludes. The Mission Continues has a sustained presence in Atlanta with more than 120 local veteran volunteers working regularly with nonprofit partners engaged in the Westside's neighborhoods and volunteering for ongoing coordinated service projects. Through this sustained presence and fueled by the combined support of The Arthur M. Blank Family Foundation, The Home Depot Foundation and The Marcus Foundation, Inc, The Mission Continues will make a long-term positive impact by enhancing the capacity of local community organizations.
Projects planned for Operation Westside Surge in Atlanta include:
Mattie Freeland Park: A Westside resident-led initiative to honor the legacy of a long-time English Avenue resident, Ms. Mattie Freeland, veterans will work to complete the plans for Mattie Freeland Park, including construction of a new sports field, cookout area and installation of new play equipment.
Truly Living Well Urban Farm: While roughly one in five Georgians can't afford to buy healthy food on a regular basis, Truly Living Well is working to reverse that trend through accessible programming focused on fresh and healthy eating. Veterans will enhance Truly Living Well's urban farm on the Westside by building an outdoor classroom, constructing a new shade structure, creating new pathways and renovating the garden area.
Atlanta Beltline Westside Trail: The Atlanta Beltline – a 22-mile network of multiuse trails that will connect 45 neighborhoods in Atlanta when completed in 2030 – includes a number of "bump-out" green spaces that are currently vacant lots. Operation Westside Surge volunteers will revitalize one of the key Beltline bump-out sites along the Westside Trail with new picnic areas, trails, pergolas, landscaping and invasive species removal.
Boys and Girls Club English Avenue Campus: Working in collaboration with The Mission Continues' longstanding partner, the Salvation Army Boys and Girls Club at Bellwood, veterans and volunteers will transform the dilapidated English Avenue Campus into a vibrant space for widespread community use. Projects planned for the site include repainting and restoring the basketball court, building picnic areas, constructing a stage and outdoor amphitheater and planting a new children's garden.
Quest Community Development Organization's Veterans' Village: Quest Community Development Organization offers permanent housing to special needs homeless and low-income individuals, including a 12-unit garden-style apartment unit reserved for veterans. The Mission Continues will work alongside Quest veteran residents and Team Depot, The Home Depot's associate-led volunteer force, to transform the apartment complex's outdoor space with a new grill area, rainwater catchment system and upgraded veteran memorial. The collaboration aims to instill a sense of pride and ownership among residents and engage them in The Mission Continues' programs following Operation Westside Surge.
The Mission Continues has operations across the country that engage veteran volunteers every day to have deep impact on critical challenges facing underserved communities. In addition to our Mass Deployments, veterans participate in operations by serving with The Mission Continues in two primary ways:
As an individual The Mission Continues Fellow, embedding as a skilled volunteer with one of the operation's nonprofit partners for a period of six months.
As a member of a Service Platoon, undertaking regular service missions that leverage veterans' skills and leadership to make a positive impact.
By the end of 2017, veterans from The Mission Continues will be at the center of efforts that are having measurable, meaningful impact in 36 metro areas across the country.
To learn more about The Mission Continues' programs and opportunities to get involved, visit http://www.missioncontinues.org.
About The Mission Continues
The Mission Continues is a national nonprofit organization that empowers veterans who are adjusting to life at home to find purpose through community impact. Our operations in cities across the country deploy veteran volunteers alongside non-profit partners and community leaders to solve some of the most challenging issues facing our communities: improving community education resources, eliminating food deserts, mentoring at-risk youth and more. Through this unique model, veterans build new skills and networks that help them successfully reintegrate to life after the military while making long-term, sustainable transformations in communities and inspiring future generations to serve. To learn more, visit: http://www.missioncontinues.org or follow us on Twitter @missioncontinue.
About The Arthur M. Blank Foundation
Formed in 1995, The Arthur M. Blank Family Foundation promotes innovative solutions to transform the lives of youth and their families, seeking results that move communities beyond what seems possible today. The Foundation invests in education, parks and greenspace, youth development, community redevelopment, and the arts, and leads giving programs for each of the Blank Family of Businesses, including the Atlanta Falcons, Atlanta United, PGA TOUR Superstore, Mountain Sky Guest Ranch, and West Creek Ranch. Mr. Blank, chairman of the foundation, co-founded The Home Depot, the world's largest home improvement retailer, in 1978 and retired from the company as co-chairman in 2001. Through the foundation and his family's personal giving, Mr. Blank has granted nearly $300 million to various charitable organizations.
For more information about The Arthur M. Blank Family Foundation, visit http://www.blankfoundation.org or follow us on Facebook @BlankFamilyFoundation or Twitter @BlankFoundation.
About The Home Depot Foundation
Since the first The Home Depot store opened in 1979, giving back has been a core value for the Company and a passion for its associates. Today, The Home Depot Foundation focuses its philanthropic efforts on improving the homes and lives of U.S. military veterans and their families and aiding communities affected by natural disasters. Through Team Depot, the Company's associate-led volunteer force, thousands of associates dedicate their time and talents to these efforts in the communities where they live and work. Since 2011, The Home Depot Foundation has invested more than $198 million in veteran causes, and along with the help of Team Depot volunteers, has transformed more than 33,000 homes and facilities for veterans. To learn more and see Team Depot in action, visit http://www.homedepot.com/teamdepot and follow us on Twitter and Instagram @teamdepot and like us on Facebook at http://www.facebook.com/teamdepot.
About The Marcus Foundation, Inc.
The Marcus Foundation is the private philanthropic foundation of Bernie Marcus. Bernie Marcus is a co-founder of The Home Depot. Since his retirement from the company in 2001, he has been a philanthropist and CEO of The Marcus Foundation. Bernie is a patriot and staunch supporter of American military and veterans. The Marcus Foundation focuses on five areas: children, Jewish causes, medical research, free enterprise and community.