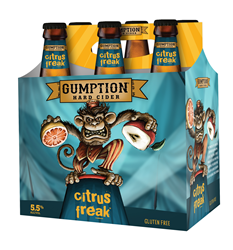 Middlebury, VT (PRWEB) June 06, 2017
Gumption® Hard Cider is excited to launch Citrus Freak™, the newest member of their Circus of Ciders. A perfect pairing of common eating apples, grapefruit, and cascade hops, this semi-dry cider delivers a bold and unique citrus taste. Gumption Citrus Freak joins Gumption Original as the second year-round option within the portfolio for an all-day enjoyable experience. The new cider is 5.5% ABV and will be available in 6-packs of 12 oz. longneck bottles nationwide.
"Citrus Freak highlights the Gumption brand spirit of innovation," says Brand Manager Phil Tucker. "The new prankster in our portfolio showcases our Cider Makers adventurous and experimental side. It's one of the best liquids to come out of the cellar and will be a must-have all year."
The launch of Citrus Freak will be supported by fun POS and both on and off-premise samplings. For more information, samples, or hi-res imagery, contact Phil Tucker at ptucker@vtciderco.com or (802)-458-9468.
Gumption – The Circus of Ciders
Originally launched under the Woodchuck® brand in 2015, Gumption® is a bold and audacious brand which has been wildly successful with consumers. In December 2016, Gumption spun off from Woodchuck® as its own brand with line extensions including the rotational Late Show series and Citrus Freak.
####
About Vermont Cider Co.
Vermont Cider Co. introduced the U.S. to the craft cider category 25 years ago. Dedicated exclusively to cider making, they are the proud producers of their namesake brand, the original American hard cider, Woodchuck®, the northeast premium hard cider brand, Vermont Cider Co., the circus of ciders, Gumption®, the west coast native, Wyder's® Cider, and importers of Magners® Irish Cider and Blackthorn®. With an unparalleled focus on quality and innovation, Vermont Cider Co. leads the category in releasing the most premium liquid and pioneering new ciders made from the finest ingredients. Under the watchful eyes of two award-winning cider makers, Vermont Cider Co. produces and distributes from Middlebury, VT, blending together the passion of their consumers, their creativity, and their heritage within the green mountains.