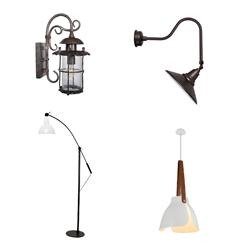 Their spiral designs are inspired by nature, and with their flower and stem accents, they're the perfect fit for outdoor lighting on porches and the like.
Irvine, California (PRWEB) June 11, 2017
Online LED lighting retailer Cocoweb recently launched an all-new series of designer lighting fixtures designed to provide a unified collection for home and commercial lighting. Having already established themselves as mainstays in the home lighting industry, Cocoweb has decided to further expand their product lines with a new series of both traditional and ultra-modern fixtures, in the form of their Éire Collection of wall lanterns and Roma Collection of Pendant lamps. Included with this line update are also a new series of LED floor lamps and sign lights based off of the company's already well-established line of Barn Lights.
A mixture of classic and contemporary, Cocoweb's newest products are a combination of glass-lined outdoor wall lanterns and ultra-modern indoor hanging pendant lights. The wall lanterns, entitled the "Éire Collection," are modeled after late 19th Century iron lanterns, with each fixture handcrafted for an authentic rustic look. On the other end of the spectrum, their Roma Collection of pendants is purported to be Cocoweb's answer to modern design needs. The hanging lights feature clean outlines and bright, vivid finishes, and are constructed from a combination of wood, metal, and faux leather materials for variety.
"Our new indoor and outdoor lights are great for designers who are looking for any kind of design!" said Drew Kalinski, Cocoweb's digital marketing spokesman. "The Éire collection has that old-world charm we know our customers love. Their spiral designs are inspired by nature, and with their flower and stem accents, they're the perfect fit for outdoor lighting on porches and the like. Our Roma lights, on the other hand, are more modern in feel. We really experimented with these new designs, mixing finish textures and applying different visual lines to the lights. The result is a series that's brilliantly contemporary!"
Rounding out their new products, Cocoweb has also announced new customization options for their already critically acclaimed Barn Light series. Continuing the classic simplicity of the barn light product line, the Industrial Floor Lamp offers task and reading lighting. The company has also introduced barn-style sign lights with a swivel joint that adds more flexibility to the angle of the shade, enabling angled lighting for signage or storefronts.
"These new lamps are a great addition to our already popular designs," continued Kalinski. "We envisioned these lights as kind of a complementary style for your home and workspaces: the industrial floor lamp is for cozying up on the couch with your favorite novel, but our Sign Lights are for all your storefront lighting, whether it's the name of your restaurant or just the menu out front."
"We want customers to always be able to match their lights, so with these new styles to complement our existing lines," he concluded. "Our new lights are all designed to coalescence with each other for one unified design across your entire lighting décor. Whether it's the traditional looks of our Éire lanterns, the modern style of our Roma pendants, or the timeless flair of our barn lights, no matter your style we can offer you a light to match!"
Cocoweb is an online commerce firm that has operated locally out of Irvine, California for over five years. In this time they have established themselves as a company always looking to innovate, providing high-end, designer lighting products to customers worldwide. More information can be found at http://www.cocoweb.com.
For more information contact:
Bryan Hernandez
Marketing Manager
Cocoweb, Inc.
http://www.cocoweb.com