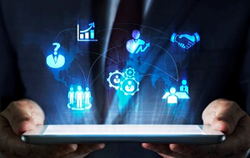 Boulder, Colo. (PRWEB) June 06, 2017
Enterprise Management Associates (EMA), a leading IT and data management research and consulting firm, today announced it will host a research webinar titled "Next-Generation IT Service Management—Changing the Future of IT: How Real Is It Today, and Where is It Going in the Future?," featuring Dennis Drogseth, VP of research covering IT megatrends, snalytics and CMDB dystems at EMA.
In ongoing research and interviews, EMA has witnessed the growing role of IT service management in many IT organizations. This growth is a result of progressive ITSM teams—with integrated capabilities to support asset management, operations, development and the IT executive and business community—becoming a hub in optimizing IT for both value and cost.
During this webinar, Drogseth will provide insight into this new research, with some dramatic, and telling revelations. Some of the questions addressed will be:

What organizational models work best for ITSM teams to evolve to become "hubs" rather than "spokes" within IT?
What technologies are becoming most paramount in support of cloud, mobile and agile? What is the broader impact of these initiatives on ITSM teams today?
What best practices and processes issues make up ITSM today? Is the role of ITIL on the rise, steady state or in decline?
How are ITSM teams combining with customer support—both in North America and in Europe—to bring more integrated value to the business as a whole?
How effective are ITSM teams in supporting integrated IT asset management, software asset management and broader financial goals?
How are ITSM teams combining with operations and development to optimize the lifecycle of application services?
What are the biggest obstacles for ITSM teams going forward? What characteristics mark ITSM teams for success?
The webinar is Thursday, June 15 at 2:00 p.m. Eastern. Those who wish to attend can register at: http://research.enterprisemanagement.com/next-gen-itsm-2017-webinar-pr.html
About EMA
Founded in 1996, EMA is a leading industry analyst firm that specializes in providing deep insight across the full spectrum of IT and data management technologies. EMA analysts leverage a unique combination of practical experience, insight into industry best practices, and in-depth knowledge of current and planned vendor solutions to help clients achieve their goals. Learn more about EMA research, analysis, and consulting services for enterprise line of business users, IT professionals and IT vendors at http://www.enterprisemanagement.com or blogs.enterprisemanagement.com.